Topic: COMMUNITY INTEREST
Mafalda's to Host Legendary Entertainer Barbara Trent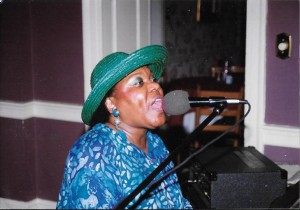 By Tammy Duffy
Mafalda's restaurant located at 3681 Nottingham Way in Hamilton, NJ success story continues. They were recently awarded the catering contracts for the Elks in Hamilton as well as the Nottingham Ballroom. It' no wonder. for their menu and unique platters are a culinary delight. They continue to work with the community and recognize the extreme talent that exists within our home town. They now will have a legend performing at the restaurant every Wednesday night starting Oct 8, 2014.
For decades central New Jersey jazz lovers flocked to hear legendary area pianist Barbara Trent play and sing standards. The performer connected with her fans — lovers of romance and memories in ways that inspired them to seek her out after years and years. The 75-year-old musician just ended a five-year stay at the Centre Bridge Inn (in New Hope, Pennsylvania).
In the month of October, starting Wednesday, Oct 8, 2014 the legendary Barbara Trent will be performing at Mafalda's. The legend will perform every Wednesday's at Mafalda's from 6-9pm. It is recommended that you make reservations to ensure you can get a seat. Reservations can be made by calling 609-587-5800. There will be a special dinner menu during the performances and the restaurant is BYOB.
Music is a family tradition for Trent. Her father, William Trent, studied at Juilliard before settling in Harlem and performing in churches. About the uncanny similarity with the name of the acknowledged 17th century founder of the City of Trenton, Barbara Trent says her father's family was from Richmond, Virginia, where the historical William Trent (son of the founding Trent) had a military career during the French and Indian War.
Barbara Trent has been a major figure in the Trenton area music scene for over 5 decades. Her singing never fails to touch the heart and soul of her listeners in very personal ways. Her vast repertory of songs all center on her personal theme. Love is what it's all about!
Wednesday, Oct 8, 2014 from 6 to 9pm is the first concert, don't miss it!


Posted by tammyduffy at 8:32 PM EDT
Updated: Saturday, 4 October 2014 8:41 PM EDT