Eiko: A Body in Places
Topic: ART NEWS
Eiko: A Body in Places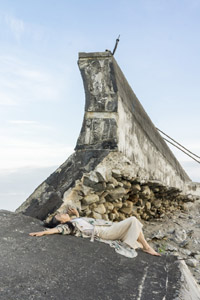 A two-part collaboration with performance artist Eiko to take place at Philadelphia 30th Street Station and at PAFA, beginning October 3, 2014
The Pennsylvania Academy of the Fine Arts (PAFA) announces a collaboration with performance artist Eiko to present A Body in Places, which consists of two related works: A Body in a Station and A Body in Fukushima, beginning October 3, 2014.
A four-part series of three-hour performances conceived and performed by Eiko, A Body in a Station will take place in two waiting terminals of Philadelphia's 30th Street Station, on October 3, 10, 17, and 24, 2014. The four performance times will be staggered so that Eiko will be exposed to different groups of people at the station. As there will be exactly one week between the end of one performance and the beginning of the next, Eiko will examine how each performance affects and is affected by living everyday life between the performances. This is the first time Eiko (of acclaimed performance artist duo Eiko & Koma) will take on a solo performance.
"PAFA is thrilled to follow up on our successful collaboration with Amtrak last spring when we presented KAWS' monumental PASSING THROUGH sculpture at 30th Street Station. Eiko's performances brilliantly link PAFA's long commitment to the human body in art with a rich contemporary performance tradition. Her works, both at PAFA and at 30th Street, are a poignant reminder of the power and the fragility of the human body and spirit," says Harry Philbrick, the Edna S. Tuttleman Director of the Museum.
From October 3, 2014 to April 5, 2015, PAFA will host A Body in Fukushima in the Samuel M. V. Hamilton Building, an exhibition of still photographs by William Johnston of Eiko performing in radically different terminals – the abandoned rail stations in Fukushima, Japan.
The exhibition shows selected photographs taken during two visits made by Eiko and Johnston in January and July 2014 to the irradiated communities that were evacuated in 2011 after the nuclear reactors at the Fukushima Daiichi plants suffered massive damage in the wake of an earthquake and tsunami. The plants' explosions released a high volume of radiation into the surrounding area and beyond. The damaged facilities continue to emit radiation, and the cleaning process is slow and difficult, leaving the surrounding towns utterly desolate. Eiko and Johnston traveled through areas that have only recently been opened to daytime visitors, following the path of a train line where the service has been discontinued. Many of the train stations were partially or completely destroyed or contaminated by radiation.
"I am scared but excited about performing alone for as many as twelve hours at a train station. I have never dreamt of being a soloist before," says Eiko. "I saw that people at 30th Street Station are alone, going somewhere or waiting to go somewhere. Many are busy with cell phones. Sitting in the train station, I had an epiphany. I want to perform here alone. I want to exchange a gaze with viewers. A simple set. An odd, but beautiful costume. A body and mind very exposed…I want to embody the sense of nakedness, feebleness of a human and the solitude of an artist."
Through A Body in Places, Eiko seeks to establish her own body as a link between vastly different stations. Her body becomes a conduit between Philadelphia and the radiation-devastated Fukushima, as well as between PAFA's galleries and 30th Street Station.
Eiko Performance Schedule at 30th Street Station:
•
October 3: 12-3 p.m., Main Waiting Room
•
October 10: 3-6 p.m., North Waiting Room
•
October 17: 6-9 p.m., North Waiting Room
• October 24: 9 p.m.-12 a.m., Main Waiting Room
Eiko's work in Philadelphia has been made possible by a Challenge Grant from the John S. and James L. Knight Foundation. Creation of A Body in a Station and the associated photo exhibition, A Body in Fukushima, has been supported by the Japan Foundation through the Performing Arts JAPAN program; the National Dance Project of the New England Foundation for the Arts; Dorris Duke Performing Artist Award; and the National Endowment for the Arts.
Posted by tammyduffy at 7:23 PM EDT
Updated: Thursday, 9 October 2014 7:25 PM EDT