Barista's Duke It Out
Topic: REEALY?
Baristas Duke It Out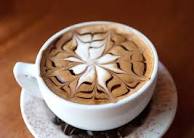 Café culture is bigger than ever and so are the attitudes of some coffee connoisseurs. As I waited in line to acquire my morning coffee, a sudden eruption of female shouting filled the coffee shop. A patron, who evidently was a barista, was yelling at the barista behind the counter accusing her of touching the inside of her cup. When the barista behind the counter handed the patron her coffee the patron said," I will NOT drink that, you touched the inside of my cup. Make me a new one."
The barista was very annoyed and challenged the patron saying, "I did not, you are nuts." The patron stood her ground and demanded a fresh cup. The barista complied but not without additional glaring looks and comments.
Does the patron have a valid concern? Is she valid to have said,"Don't touch the inside of the cup or give me a new one."
How many of us, as a matter of habit, actually pay any attention to a coffee shop's espresso machine of the staff each time we patronize? I'm guessing not many.
Even though every coffee outlet has a legal obligation to observe certain hygiene regulations and standards of practice (which include the maintenance and cleaning of coffee machines), the ugly truth is there are operators out there who simply do not care about them - or worse, are ignorant of them. They allow their espresso machine to be caked in old milk and coffee residue - forgetting that, apart from its visual appeal, a clean machine also improves the taste of the coffee that comes out of it. Do you watch to see how they are handling the cups. Are they sticking their fingers inside the cups?

So, to help minimize your chances of getting served a bad-tasting, or bacteria-infested cup of coffee the next time you pop into a coffee shop, I'm going to share with you a few things you should look out for before placing your order.

1. The steam wand. This is that part of the espresso machine used to steam milk. Steam wands should be shiny and clean at all times. Observe; does the barista immediately and properly wipe/clean the wand after each use? He or she should, before the milk dries up and hardens. The build-up of caked milk quickly harbors bacteria which will in turn infect the milk used to make subsequent beverages which, in all likelihood, could well be yours. In making coffee beverages, milk is usually heated to 65°C-70°C which isn't hot enough to kill bacteria; so beware.
Another thing to note with regards steam wands is this: has its steel coating worn off, exposing the copper underneath? If so, best go elsewhere for your caffeine fix because ingesting copper - bacteria or not - is a health risk in itself.
2. The cloth used to wipe/clean the steam wand should be dedicated solely for this purpose and nothing else. A good barista will always wash, rinse and change the cloth regularly during the course of the day to ensure that it stays clean and doesn't smell. When you walk into a coffee shop, spend a fleeting moment - for instance, when you're browsing through the menu or checking out the cakes on display - to give the cloth a once-over (it's invariably placed next to the espresso machine). If it's dirty or soiled, it shows that the barista hasn't been washing or changing it as regularly as they should, if at all. Just like a dirty steam wand, an unclean piece of cloth soaked with old milk and coffee residue can harbor bacteria. Likewise, a ragged piece of cloth is a sure-fire sign of lackadaisical housekeeping. Time to decide if you should stay or take your leave.


3. The portafilter(or coffee basket; see next picture) refers to that part of an espresso machine that holds a tamped puck of coffee grounds through which hot water is injected to produce an espresso. Now, I know it's not always easy to try and catch a glimpse of the portafilters from your vantage point in front of the counter. But try to move around it and watch the barista in action; they should be cleaning the coffee baskets by either flushing or wiping them after each use to remove the coffee residue left over from preparing the previous cup. Failure to do this will almost certainly result in rancid espressos. It also reflects poorly on the barista.

Having shared with you the things to look out for the next time you visit a coffee shop, I should also add that there's really no need for anyone to become paranoid about coffee shop hygiene after reading this. If the place is busy, some degree of untidiness can be expected as the barista rushes through the orders.


But tidiness is one thing and hygiene quite another. Generally speaking, so long as both the steam wand and the cloth used to wipe it are kept clean, and the barista cleans out the coffee baskets after each espresso shot, there's really no reason for you to fear being served a bad cup - unless of course the coffee is of poor quality and the barista so unskilled. The good news is most operators do observe these standards of practice; it's just those few bad apples who do not that give the decent ones a bad name. But, hey, who's to say you won't innocently find yourself in one of these bad-apple shops one day?
Posted by tammyduffy at 7:22 PM EDT