Magical World of "CATS" Comes to MCCC's Kelsey Theatre March 13 to 29
Topic: COMMUNITY INTEREST
Magical World of "CATS" Comes to MCCC's Kelsey Theatre March 13 to 29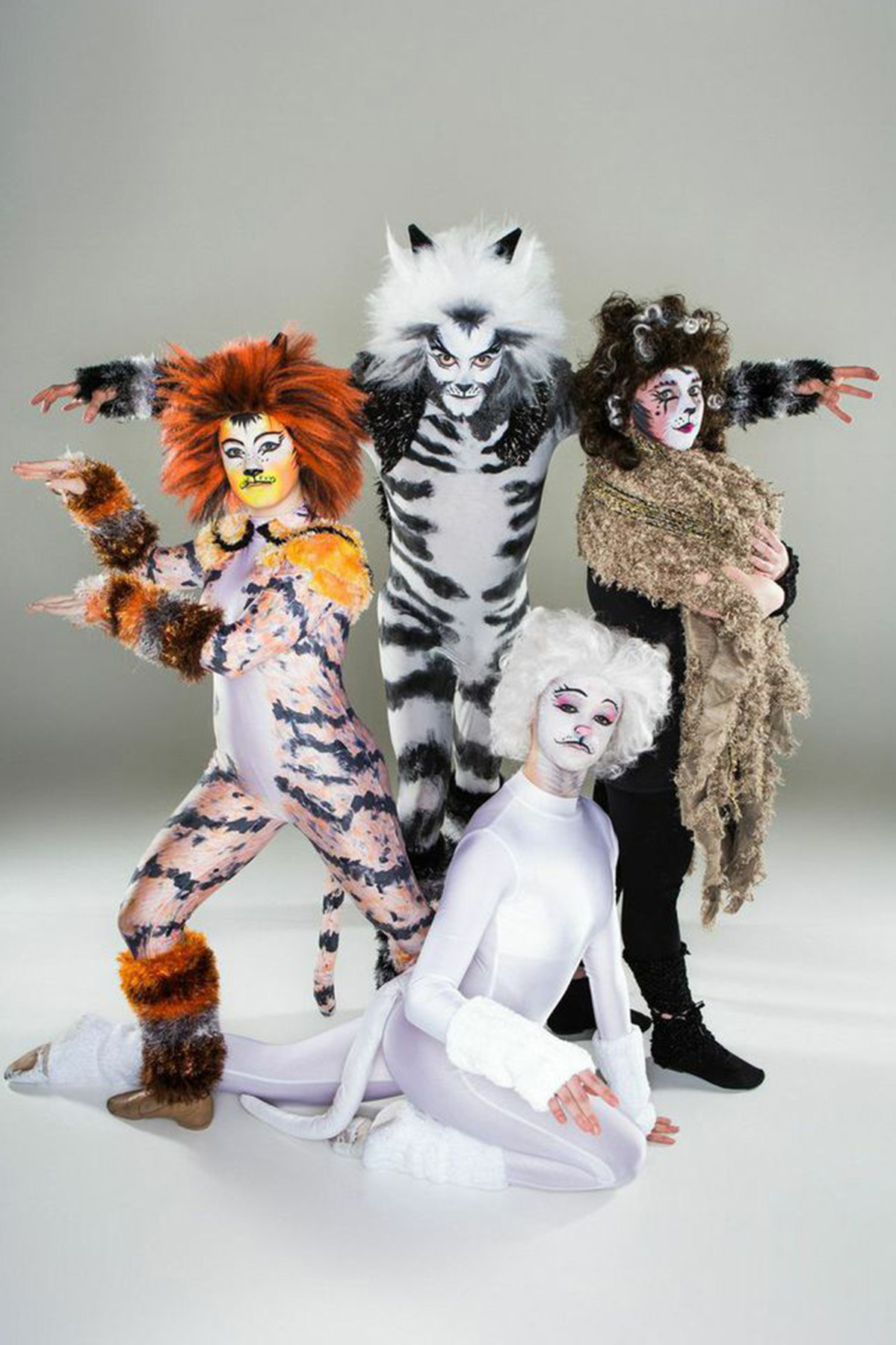 Cats, Andrew Lloyd Webber's magical musical homage to the feline world, comes to Mercer County Community College's (MCCC's) Kelsey Theatre in March. Playful Theatre Productions will present nine performances over three weekends, including four matinees. Dates and show times for evening performances are: Fridays, March 13 and 27 at 8 p.m., and Saturdays, March 14, 21 and 28 at 8 p.m. Matinees will be presented on Sunday, March 15, Saturday, March 21, Sunday, March 22 and Sunday, March 29 at 2 p.m. Kelsey Theatre is located on MCCC's West Windsor campus, 1200 Old Trenton Road. An opening night reception with the cast and crew follows the March 13 performance.
Winner of seven Tony Awards including Best Musical and Best Original Score, "Cats" ran on Broadway for 18 years, totaling 7,485 performances. Playful Theatre Productions has gathered a talented, spirited cast of actors for this extraordinarily popular show, which is based on T.S. Eliot's collection of whimsical poems, Old Possum's Book Of Practical Cats (1939).
The Kelsey stage will be transformed into a trash-strewn alley populated by the "Jellicle" tribe – the narrator Munkustrap, the wise leader Old Deuteronomy, the playful prankster Rum Tum Tugger, the shunned Grizabella, The Glamour Cat, the hefty Bustopher Jones, and many more. Expressing themselves in imaginative dance and magnificent music, the cats will croon their way into fans' hearts with unforgettable songs, most famously the blockbuster hit "Memory."
The cast includes Kaitlyn Anthony of Bordentown as Victoria; Noah Barson of Richboro, Pa., as Macavity/Rumpus Cat; Kyle Blocker of New Brunswick as Rum Tum Tugger; John Boccanfuso of Yardville as Alonzo; Reise Bridgers of Hamilton as Victor; Tia Brown of Lawrenceville as Bombalurina; Emily Cobb of Ivyland, Pa., as Coricopat; Jaci D'Ulisse of Trenton as Electra; Devyn Fox of Yardley, Pa., as Rumpleteazer; Shannon Garahan of East Brunswick as Jellylorum; Wyatt Kim of Yardley, Pa., as Carbucketty; Jaimie McMillin of Bordentown as Grizabella; Michael O'Hara of Yardley, Pa., as Bill Bailey; Emily Christine O'Sullivan of Hamilton as Cassandra; Trina Mar of Croydon, Pa., as Admetus; Kate Skelly of Bordentown as Jemima; Nicholas Pecht of Hamilton as Bustopher Jones/Gus; James Petro of Hamilton as Munkustrap; Sasha Saco of Philadelphia, Pa., as Jennyanydots; Tom Sawyer of Yardley, Pa., as Tom Skimbleshanks; Colleen McMahon Skillman of West Windsor as Demeter; Matthew Snyder of Levittown, Pa., as Matthew Mungojerrie Roman Sohor as Parlin as Deuteronomy; Rachel Tovar of Trenton as Tantomile; and Michael Zweig of Philadelphia, Pa., as Mr. Mistoffelees. Pit singers include Heather Corson, Vianna Fagel, Sally Page, Amanda Ramus, Michelle Rittmann, and Michelle Whitescarver.
The production staff includes Producer Suzanne Smith, Assistant Producer Hilary Leboff, Director/Choreographer Dani Tucci-Juraga, Music Director Laurie Gougher, Master Builder James Petro, Lighting Designer Robert Terrano, Associate Lighting Designer Star McCloud, Sound Designer Evan Paine, Assistant Lighting Designer Eric Collin, Light Board Operator Chris Neilsen, Wigs by Donna Reed, Makeup Designer Koren Zander, Costumers Kate Pinner and Michelle Rittmann, and Stage Managers Nancy Russell and Ruth Kresge.
Tickets for "Cats" are $20 for all. Free parking is available next to the theater. Tickets may be purchased online at www.kelseytheatre.net or by calling the Kelsey Box Office at 609-570-3333. For a complete listing of adult and children's events, visit the Kelsey website or call the box office for a brochure.
Posted by tammyduffy at 4:15 PM EST