Malan Breton: Fall Winter 2016 Collections at Gotham Hall
Topic: FASHION NEWS
Malan Breton: Fall Winter 2016 Collections
at Gotham Hall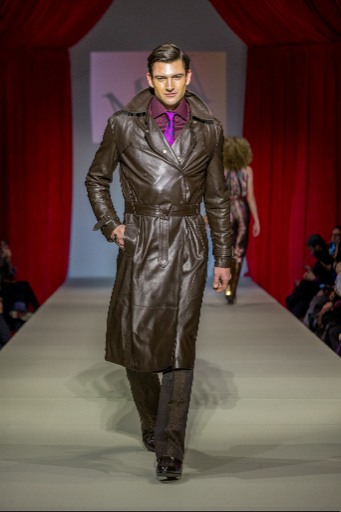 On February 11th at Gotham Hall in NYC, , Taiwanese-born American designer Malan Breton based in New York City showed us effortless, classics. Breton launched his namesake label "Malan Breton" in 2005. The label is associated with menswear, womenswear, outerwear, accessories, and bridal.
If there is one fashion icon through the ages that men have aspired to look like, it is undoubtedly James Bond, agent 007, super spy, super stud, super stylish and the most fashionable. The 60s look is everywhere now and nobody carries it better than the models on Malan Breton's runway.
The first look traveled us back in time to the world of bell bottoms. These were utterly fantastic. These Beauties have been specifically designed for the flare wearer. We think Breton hit this look spot on with the addition of an extra long shirt beneath a super sleek jacket.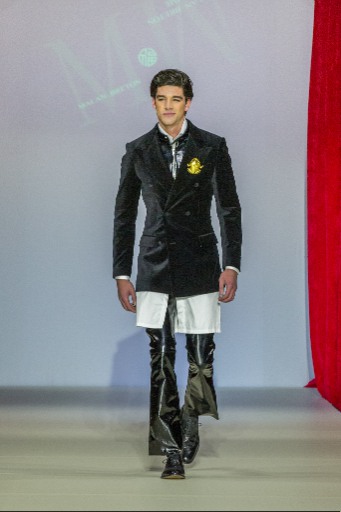 This model below, with his super fit body, defined muscles and slim lapels, slim trousers worn with another extra long shirt, slim tie and a gold embellishment on his breast pocket. It is thoroughly classic tailoring .... the jacket is tight through the body and sleeves , and it is short like the current men's fashion trends (it doesn't completely cover the buttocks while traditionally a men's jacket should be covering his rear and we loved that!). The leather jacket has padded shoulders, a 2-button front, with narrow lapels that roll gently over the top button. The jacket with its two buttons, with the last button left open, double dart in the front, flapped pockets and double vent in the back. In traditional Breton fashion, he uses a flat-front trouser which are also super slim fit and have a very low rise. All in all, a very modern fashionable fit. Just remember : if you wear a 3 button front jacket ... just do the middle button only ... and never button the last button in your jacket cuff.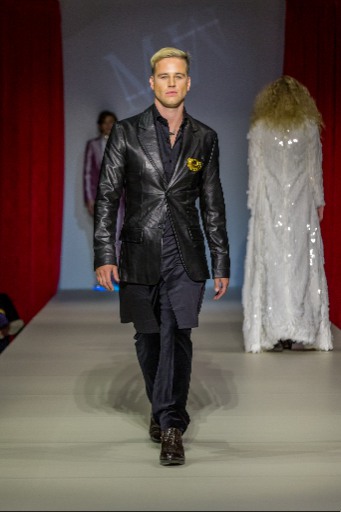 These looks on the runway were effortlessly stylish, whether the models were going to be street jumping in a suit or gunning for the enemy in a gillet.
A man should never look shabby, he should always be perfectly groomed. The male models in the show clearly were definitely having some 007 moments. Men often dress immaculately but then forget about the grooming, the look is lost. If you don't attend to details like that that then it won't matter how well you're dressed, Breton nailed it in this show. So many shows I attend miss this.
So, clean-shaven good looks aside, what is the key to Breton's success? It's not only about the clothes themselves but the effect they have on the wearer. A person may say to themselves, I would never wear that extra long shirt with my jacket or these colors." Yet, it creates a whole new look, a persona that is edgy that everyone will envy. The Breton style is so attractive because he always creates clothes that make the wearer feel confident. It's that confidence, that's so attractive. As a woman I would wear every one of those male looks. Every one! They are the epitome of classic style with an edge. LOVE IT!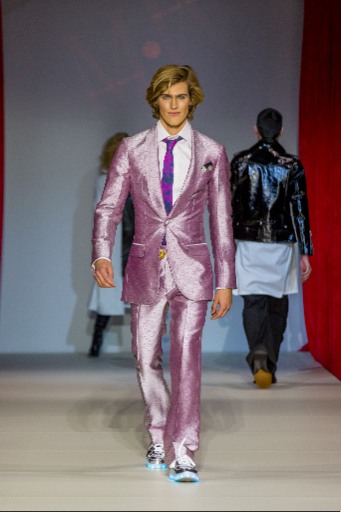 A suit – not a good suit but a very good suit – is the one garment a man can wear that can make him feel like he owns the world. The man looking to make an investment in a suit should stick to a classic cut and going bespoke. I prefer a simple, single breasted suit because you can always dress it up or down. Double breasted ones always look shabby when opened. Tailored isn't just better for the fit but for function too. When a suit fits like a second skin you can do so much more in them.
Clothes should never dress the man or overpower him. Breton has created a lovely balance in this collection, no one is overpowered. You should see the man first and the clothes second, which is why Breton's collection allows the wearers personality to shine through.
I quite like gloves but many probably never spend more than about 45 seconds trying a pair on before making a purchase. I want to see more gloves on men that fit them beautifully. The days of wearing oven mitts on men should become a thing of the past, something we all revolution to ban. Adding gloves to some of these looks would take them to another level of sophistication. They should look beautiful but nobody should really know why – they should just be part of you.
The accessories in the show were exquisite. They should be there but never too obvious and they were not too obvious in the show. Little details – things like amazing cufflinks, pins, belts – are so important when it comes to dressing. They should say something about the man or woman you are and have a history behind them.
But whilst details matter, they should never dominate an outfit. If you're nervous about accessories, paring things right back to a pocket square. You can say so much with something as a simple a pocket square. It's a specific and precise detail which always adds a touch of understated elegance. To make sure it's on point I suggest wearing it straight, allowing exactly 1.4 of an inch to show above the pocket. It's always better for a man to take something off rather than to add something to their outfit.
Breton is a man who has created his own style - one that's outside fashion. This is why his looks always are timeless. Key to this elegance is choosing classics, using great fabrics, and paring things back and keeping things simple. That applies to causal wear too. Stick to classics like roll necks – in cashmere because a man's clothing should always feel soft and luxurious to the touch – and polo shirts in neutral colors and you will always look elegant. Bravo Malan! Thank you for another lovely runway.
Posted by tammyduffy at 10:27 AM EST
Updated: Sunday, 14 February 2016 10:35 AM EST