Why More and More People Are Buying Online
Why More and More People Are Buying Online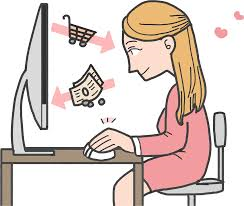 When digital marketing first started in the mid 1990's many, including myself ignored it. We could not dream of not going to the mall, outlet stores and the like to make our purchases. During the past two days I spent time beating the path in the retail world, which is a very rare occurrence for me. I have zero time to shop and Amazon is my go-to retailer. Today, purchasing online is accepted by many, but if you look across categories of purchase, there are some sectors where there is still reluctance to buy online, so online retailers still need to work on their tactics to encourage online conversion and multichannel tactics to encourage offline purchase in-store.
As I ended my weekend of visiting the brick and mortar……I quickly realized….. I am an online shopping gal. I can find all the odd stuff I use for hiking, electronics, etc. online with ease vs going to store to store to be disappointed with the lack out outcome. Let me share a few of the experiences I had this weekend.
I visited the Jackson outlet mall in New Jersey to possible do some holiday shopping. The plan was to walk from one end to the other, hitting every store, starting at Nike ending at Carters. What I found in every store, were unhappy salespeople (except for the gals in the Van Heusen store), rude parents and kids completely out of control. The biggest frustration I have going into any brick and mortar establishment is staff's inability to count change. You make a purchase, and they stare in terror at the register as it pops open. Many cannot do the arithmetic that 2 nickels are equal 10 cents. This is no exaggeration; this is the norm vs. the exception.
Upon entering one of name brand clothing stores, I was immediately ram rodded by a young male, approximate age 18 years. He was going through the entire store ramming into people with full force. My first reaction was that of startlement and I thought, the child may have a deficiency that is causing him to act in this manner. Yet, as I watched the child move swiftly through the entire store, doing the same thing to all women he encountered. I started to hear laughter from a corner of the store. This laughter was coming from the child's father. He stood there laughing at what his kid was doing in the store. Even if the child has an issue, I cannot imagine a person who would call themselves a parent would laugh about what was occuring in the store. I left the store as quickly as I entered buying nothing.
Another store I went into sold high end crystals and their store is jampacked. The aisles are very tiny, only large enough for one person be in at a time. I was looking at a possible gift for my mother and all the sudden I felt a large shove to my lower legs. A mother with her baby carriage rammed her baby carriage into my lower legs and then had the audacity to yell at me to move out of her way. She could have easily turned her carriage down another aisle but felt the need to ram be like a couch and she was the vacuum. Who does that? I looked at her and said, "Are you kidding me with the battery ramming of my legs with your carriage? Her response, "Get out of my way NOW!" she said this in a tone that resembled Regan from the Exorcist. This person was obviously out of their mind, so I just moved out of the way and left that store buying nothing.
In the Coach store, I listened to millennials who were shopping there ask, "How much will this cost with 25% off?" The millennial clerk responded with, "I am not sure, they will ring it up at the register." The quality of the bags, wallets, etc. in the store were nothing like when Coach first came to market. The poor quality of the customer experience equaled the poor quality of the merchandise. However, the prices, did not reflect all this poorness. I left that store buying nothing.
The children that were left to run through stores unsupervised also turned off my shopping experience. How is it that parents today allow this level of disgraceful behavior of their kids in public? I never would have done that as a kid, my parents would have knocked my block off and I would have deserved it. Those stores with the wild child's running amok, I bought nothing in them either.
The only store I did buy anything in was a Christmas Craft shop. Each little stand was manned by the owners of the little shops. They all took pride in their product, could count change and had smiles on their faces that were like a Cheshire cat. There is something to be said for buying local…….forget the retailers……the customer experience does not drive you to be a customer.
The final stop of the day was at Costco. It was a complete zoo with hundreds of people with huge carts ram ridding each other in the aisles. Many were grossly discourteous and could care less about anyone but themselves. The kids in this store were better behaved than the adults. I could not wait to get the hell out of there. At least the check out clerks there are always so nice and helpful, which closes the purchases you made on a positive note. Once you leave the store at night, its quite busy in the lot and a gal in her care sideswiped my cart with her car. She was traveling at a high rate of speed in the lot. She and her daughter had the nerve to scream obscenities at me, like it was my fault. They sped off into the night. I was happy I had the cart, or it would have been my body that got hit.
I came home and purchased a few things online to finalize my needs for holiday gifts. Sunday I was on a quest for garland, after hitting 5 stores and coming up empty handed. I came home and hit my go to online shop and got what I needed. The free shipping online entities offer makes it very tolerable to purchase online. So off to Amazon I go……I do not have to deal with anyone who cannot count change, any rude people ramming me with their baby strollers, any deficient parents condoning their kids bad behaviors….I just get what I need, put it in my cart, pay and rest. This is why Amazon does so well…….because so much of the brick and mortar out there are just like these experiences I shared.
Posted by tammyduffy at 4:14 PM EST