Henri Matisse: The Cut Outs
Topic: ART NEWS
Henri Matisse: The Cut Outs
By Tammy Duffy
Henri Matisse was born in the North of France in 1869. Unlike the stories of many artists, there are no stories of childhood drawing. It was actually when he was recovering from an operation to remove his appendix at the age of 20, when his mother gave him a box of paints. He would use his new paint set to escape into a kind of paradise where he was free to be who he wanted to be.
Matisse traveled the world during his career. These very travels are what fed his creativity, color palette and designs.
In the final years of artist, Henri Matisse's life, he invented a groundbreaking method of making art. Beginning in the 1940's he began to make art by cutting shapes out of paper and distributing them in a lively fashion on boards and walls. He described his technique as, "drawing with scissors." These works became known as cut outs. They represent a brilliant chapter in the creative life of one of the most significant artists of the 20th century.
The Metropolitan Museum of Modern Art in NYC is hosting the exhibition, Matisse: The Cut-Outs. The exhibition runs from October 12, 2014–February 8, 2015. It is one not to miss.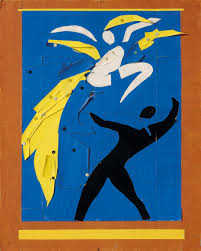 Early in Matisse's cut out process he designed book covers and designs for the ballet without really knowing that this was going to be a new medium. One of the pieces in the exhibition entitled, Two Dancers circa 1937, demonstrates an incredible texture and depth. The work is not flat it has an incredible depth.
Matisse does not know what he was making. He was cutting paper and making arrangements and some were for a book, Jazz. He compared the action of cutting paper to flying. He created a liveliness to flat paper. Matisse created Jazz when he was living in France. His wife and daughter were arrested for doing work with the résistance. He was very worried about that. He was working on Jazz at this time. Some of the iconography can be viewed as ominous and certain images are directly related to German aggression. The wolf is supposed to represent the Gestapo. There are wonderful bursts of light that have been seen as shells or ammunition blasts. The context in which these pieces were created allow one to understand the history of that time.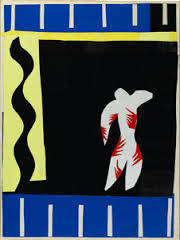 The range and intensity of Matisse's palette is quite extensive. He was incredibly aware and exact with the use of color. There were 17 different oranges that he used. Studio assistances would paint his paper in advance. They would use large sweeping strokes to create the correct color he wanted. Matisse would then cut the pieces. He used a fishing rod to place things on the wall to display his cutouts.
Perhaps unexpectedly for a painter who was so completely motivated by color, Matisse's genius is never so evident as in his drawings—in a few beautifully balanced lines he can express perfectly the character or beauty of his sitter. His works as a sculptor also became of increasing importance to him, and many believe him to have been as gifted a sculptor as he was a painter.
Time Life commissioned Matisse to create the Piece Christmas Eve. He never made his stars by cutting them out individually. He would cut out numerous triangles and then build the star from the triangles. He used his cut outs as a form of sculpture.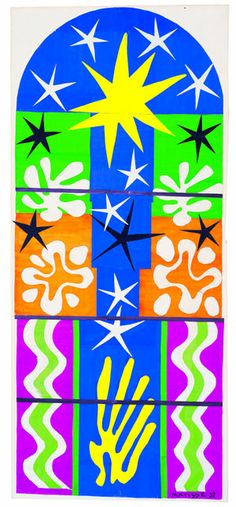 The female form was an important piece of iconography for Matisse throughout his career. He made the body out of color with the sweep of his scissors. He united color and drawing by this process. He would build the figures out of his cutouts. If he had difficultly with a piece he would stop and then do a drawing and use the drawing to help him create the form. Matisse would spend time outdoors drawing the movement of objects, trees, plants, birds, people, etc. He would then use these drawings to help create his cutouts to create works of art. He was drawing with scissors.
The chief function of color should be to serve expression as well as the possibility of thought. Matisse put down his tones without a preconceived plan. If at first, and perhaps without him having been conscious of it, one tone would particularly seduce or catch him. He would respect this tone while progressively alter and transform all the others. The expressive aspect of color imposed itself on him in a purely instinctive way. When he would paint an autumn landscape he would not try to remember what the colors were of the season. He would be inspired by the sensation that the season aroused in him, the ice purity of the sour blue sky would express the season just as well as the nuances of foliage.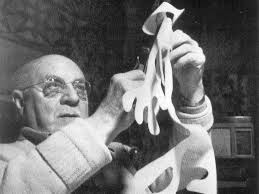 Matisse's dedication to his art throughout his life was total and every painting, every work, was the product of painstaking care and thought.
Posted by tammyduffy at 11:01 AM EST
Updated: Thursday, 27 November 2014 11:08 AM EST