Cuban Scorpions Making a Global Cure
Topic: COMMUNITY INTEREST
Cuban Scorpions Helping Cancer Patients
By Tammy Duffy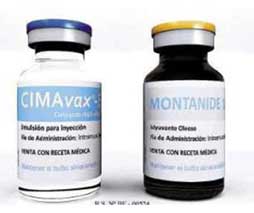 In 1985, Cuban pharmaceutical companies launched a vaccine for Meningitis B. It was not until 2014 that Pfizer and Novartis in the USA, launched their first vaccine for Meningitis B.
The pharmaceutical talents of the Cuban scientists do not end there. The fact that Cuba has already developed four cancer vaccines undoubtedly is big news for humanity if you bear in mind that according to the World Health Organization nearly 8 million people die from that disease every year. However, this wonderful news has been completely ignored in the main stream media.
In 2012, Cuba patented the first therapeutic vaccine in the world against advanced lung cancer, called CIMAVAX-EGF. In January 2013, the island announced the second cancer vaccine, known as Racotumomab.
Racotumomab (trade name Vaxira) is a therapeutic cancer vaccine for the treatment of solid tumors that is currently under clinical development by Recombio, an international public-private consortium with the participation of the Center of Molecular Immunology at Havana Cuba (CIM) and researchers from Buenos Aires University and National University of Quilmes in Argentina. It induces the patient's immune system to generate a response against a cancer-specific molecular target with the purpose of blocking tumor growth, slowing disease progression and ultimately increasing patient survival.
Clinical tests were carried out in 86 nations, revealed that though these vaccines do not cure the disease, they do reduce the tumors thus improving the quality and expectancy of life of the patients.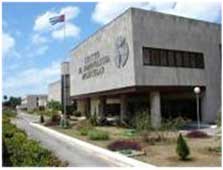 The Center of Molecular Immunology (CIM) is a Cuban biotechnological institution devoted to basic research, product development and production of mammalian cell culture products in compliance with current Good Manufacturing Practices (cGMP) regulations. CIM has extensive experience in the field of monoclonal antibodies, extending back to 1980. CIM has more than 1,127 employees, mostly scientists and engineers.

CIM´s main research objective is the development of new products for the diagnosis and treatment of cancer, and other diseases related to the immune system.

Basic research projects are focused on cancer immunotherapy, especially the development of molecular vaccines. These include antibody engineering, cellular engineering, bio-informatics and regulation of the immune response.

CIM conducts clinical trials in diagnostic imaging and cancer therapy of varying origin, and other diseases of the immune system, in highly specialized hospitals.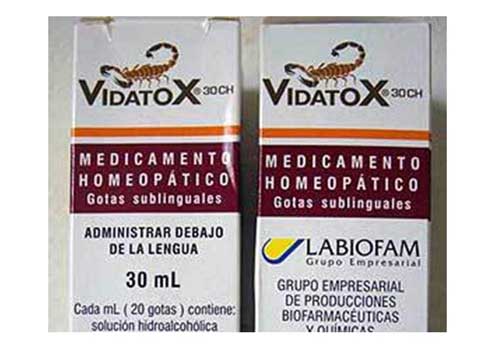 The Havana-based Molecular Immunology Center is the creator of these vaccines. The center had already developed the Meningitis-B Vaccine in 1985, one of its kind in the world. Later there came other vaccines, such as the Hepatitis-B and the Dengue. Experts at the entity have been researching for years on a HIV-Aids vaccine as well.
The Cuban agenda against cancer is also joined by Labiofam pharmaceutical enterprise, which develops homeopathic medications against the disease, such as VIDATOX, made from the venom of blue scorpion, native of Cuba.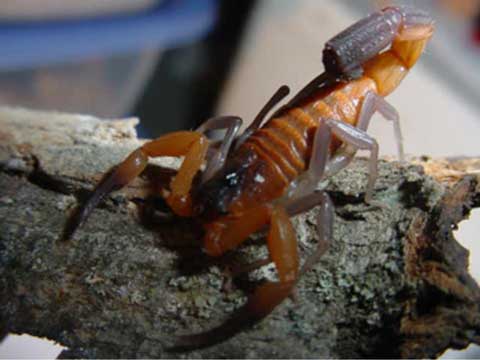 Scientists have found that the toxin in the venom of the Rophalorus junceus scorpion, endemic to Cuba, has an analgesic, anti-inflammatory and anticarcinogenic effect.

For more than 15 years the company has been doing research to discover the effectiveness of a treatment against tumors that uses scorpion venom.

Labiofam has been able to put on the market a million doses of Vidatox in its homeopathic version, to be taken in sublingual drops, and is preparing another formula of the medication in a natural form – without additives – that patients will take orally.

During clinical trials more than 10,000 cancer patients took the treatment, including 3,500 foreigners, "with positive results," above all in improving their quality of life and in stopping tumor growth, according to one of the developers, Dr Gonzalez.

The treatment has been administered to patients with cancer of the uterus, prostate, pancreas and lungs, among others. The toxin is extracted from the scorpion by means of electric stimulus and each of these creatures can provide 0.02 milliliters of venom, equivalent to two or three drops. At present there are 13 breeding facilities for scorpions in Cuba with an average of 5,000 of these arthropods each.
Vidatox is a drug produced from five protein peptides extracted from the venom of the blue scorpion (Rophalorus junceus), which is endemic to Cuba and which has analgesic, anti-inflammatory and anti-carcinogenic properties. The result of 15 years of research, by October last year Vidatox had been tested on more than 10,000 cancer patients, some 3,500 of them foreigners, with positive results both in improving quality of life and stopping tumor growth.
Vidatox is a homeopathic preparation made from five protein peptides of low molecular weight extracted from the venom of the scorpion, and which has demonstrated an "analgesic, anti-inflammatory and anti-tumor effect in more than 15 different cancer cell lines."
The medication was produced from over 5,000 scorpions of the Rhopalurus junceus variety, native to eastern Cuba. According to the company, it has no contraindications and is compatible with any other oncological treatment.
The company presented the results of its Vidatox research in its first international congress in late September in Havana before some 500 delegates from all parts of the world.
This link below will allow you to purchase it online. (Cost $177.17 USD)
It only cost 4 cents for residents of Cuba
www.labiofam.cu/en/productos/vidatox-30ch.html
Scorpions are the oldest arthropod representatives and were the first ones to conquer the Earth. Presently the number of known species is 1500. Of these, Cuba homes 32 species and subspecies, which is considered a large endemism, given that among such known forms, 29 are exclusive to our country.
Some recent investigations of research showed a much more extensive range of action in scorpion neurotoxins, not only because they are specific sodium and potassium markers, but because they show signs of activity by their selective bonding to chloride channels as expressed in malign cells, a very important basis for its use and assessment in cancer therapy.
Scorpion venom as antitumoral agent seems impossible. Though limited, products from animal sources are climbing to a significant rank among suggested research lines directives aimed to develop effective treatment for cancer. In several animal species materials with antitumoral activity have been extracted in a preliminary manner.
The use of scorpion for therapeutic purposes has been known in Cuba since the beginnings of last Century, when a so called "scorpion oil" was dispensed as useful in counteracting retention of urine, as showed in the Matanzas Pharmaceutical Museum. Additional information, give credit to scorpion alcohol extract analgesic properties in rheumatic and muscular pain. It was not until early 1980's that a research team from the School of Medical Sciences in Guantanamo started working with venom from the Rhopalurus junceus, scorpion, with the purpose of showing its anti-tumor effects, as it was being used by local population to treat tumors in lesser animals.
In January 1994, it was reported that the realization of preliminary experimental studies on mice, dogs and humans, according to which, once scorpion toxin was administered, natural or transplanted tumors in dogs and albino mice either disappeared or reduced their size.
Studies performed on humans, resulted in life-quality improvement, overriding adverse medical prognosis and complete response to the disease in a group of patients, indicating that scorpion R. junceus venom bears, among others, analgesic and anti-inflammatory properties, stimulates body immunity and acts over a wide variety of tumors; over 2,000 persons have experienced encouraging results when treated with scorpion R. junceus venom.
How can Vidatox fight cancer cells?
A tumor needs nutrition to grow.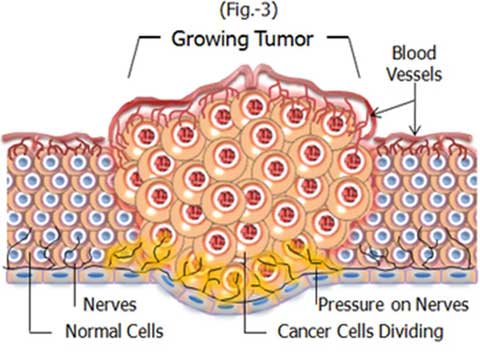 Above we see the cancer cells, which multiply rapidly and form a tumor that grows progressively into normal tissues. With the growth of the tumor there is an increase in pressure on surrounding nerves, causing from mild to unbearable pain. As in normal tissue, the tumor is nourished by blood vessels to grow. This process is called angiogenesis
Vidatox is anti angiogenic.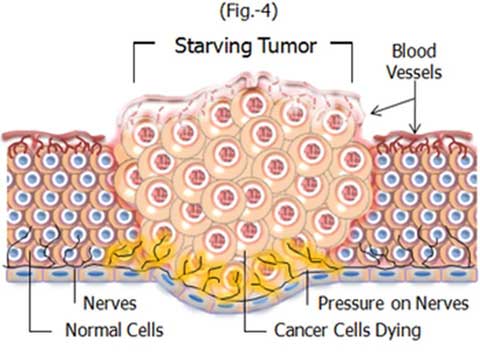 Venom binds to tumor cells and blocks tumor angiogenesis that supplies the tumor with the needed nutrients.
Vidatox also stimulates and strengthens the immune system.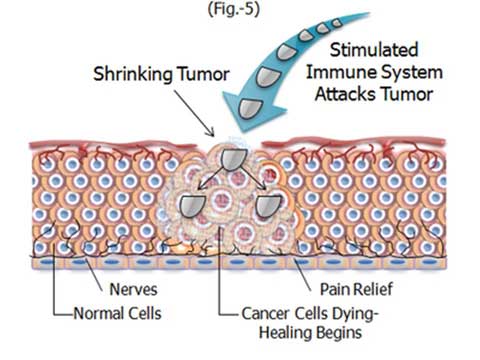 The figure above shows the healing effects that the immune system is capable of doing if properly stimulated. Studies show a significant stimulation of the immune system on experimental animals and in patients who have used the venom. There is a significant increase in white blood cells and other cells responsible for defending the immunity. In other words, the studies indicate that the venom contains substances that are effective in stimulating the immune system and other substances that act as anti-inflammatory and painkiller.
For more than 20 years, Cubans have been treating cancer patients with blue scorpion venom. Even when the results aren't jaw-dropping, thousands attest to pain relief, increased muscle strength, and renewed energy while on the medicine.
The treatment is now poised for a global premiere. Cuba's state pharmaceutical company, Labiofam, recently began mass-producing a homeopathic version called Vidatox. A handful of countries have registered it for sale, and a small black market to move the product around the globe has emerged. It's impossible to know how many patients have imbibed the venom treatment from the small glass bottles over the past two decades, but the number is likely more than 55,000 globally.
Curing cancer has arguably become the medical world's greatest conundrum. According to the World Health Organization, the disease killed approximately 7.6 million people in 2008, 13 percent of all deaths worldwide. Despite the billions of dollars invested in research, our treatment fallbacks — chemotherapy and radiation — are woefully inadequate. Doctors are only 7.3 percent more successful at treating cancer than they were in 1950, and it's expected that by 2030, twice the number of people will die from the disease as do today, predicts the World Health Organization. These are not good statistics.
Perhaps the best-known case of blue scorpion success is that of Yarislenis Abreu, a shy 15-year-old who goes by "Yari" and lives in the third-floor apartment of concrete housing in the town of Valle Honda, near Cuba's western edge. She remembers being "a vegetable" just five years ago. The right half of her body was paralyzed, and she could form thoughts in her mind but couldn't express the words. At age 10, her brain tumor was growing weekly, radiation had failed, and her doctors sent her home to die.
Her mother, Iraíde, refused to give up hope and sent Yari's father on a mission: He was to bring back the scorpion medicine a fellow cancer patient's mom said could be obtained free in a nearby province. A month later, Iraíde recalls of her daughter, "She was yelling at me: 'Mom, get me out of this bed!'" Since then, Yari has learned to walk again and write with her left hand, because her right is still smaller and weaker from the paralysis. She studies with a state-paid tutor at home and hopes to start normal high school soon. She has not missed a day of the venom medicine — and has a new weekly routine. Saturday nights, she walks two miles roundtrip to the nearest reggaeton dance club. "My mom jokes that it's like my church," Yari says, "because I go every weekend without fail."
This scorpion medicine has produced results only on solid or organ cancers like those in the lungs, pancreas, brain, or stomach. It hasn't been found effective for liquid or blood-based cancers such as leukemia or lymphoma. Nor does the medicine always yield results like those that occurred with the two children. Most patients seek the venom after everything else has failed. These patients have very weak immune systems and the cancer has already metastasized, so it's hard to expect really surprising results every time.
But if the treatment is administered in the early stages of sickness, its impact is more profound, he believes. "We hope to help turn cancer from being a fatal disease into a chronic and manageable one, like diabetes", says the developers.
Labiofam claims to have studied the effects of the venom on 10,000 patients, including 3,500 foreigners. But there is no public compilation of the methodology or results. No independent experts have conducted experiments, and none of Labiofam's work has been submitted for publication in peer-reviewed journals.
The medical world is therefore skeptical. "Rhopalurus junceus, or blue scorpion venom, originated from Cuba... is often marketed as having anti-cancer, anti-inflammatory, and analgesic properties," reads the Memorial Sloan-Kettering Cancer Center website. "The manufacturers' research cannot be corroborated. Continued research... is needed."
What is established is the product's safety. Labiofam says it conducted toxicity tests before it began distributing it, and a reputable laboratory at the Biotechnology Institute of Mexico's largest university, Universidad Nacional Autónoma de México (UNAM), recently confirmed the venom formula to be nontoxic to mammals. Indeed, among thousands of online accounts of success or failure with the venom treatment worldwide, not one notes harmful side effects.The harmlessness of the medicine, though, is curious considering its origins.
So how did this all happen? What made the scientists think to use scorpions in the first place?
José Perera and Juan González raceup the brambly hillside. It's late, almost noon, and their work will be more difficult when the midday sun sends their tiny, evasive targets out of sight. Lanky, with taut bronzed skin and matching buzzcuts, the two men in their early 40s make their way through spiny brush toward a cluster of rocks. They hold metal pincers in one hand and opaque plastic containers in the other. The pair crouches in unison, carefully yet quickly pushing aside rocks. After a few moments, a small wriggling mass appears. As if sensing something ominous, the scorpion scurries frantically. But these men are professionals. With one motion, Perera steadies his pincers. He quickly grabs the scorpion's tail, thus rendering it as harmless as a grasshopper, and drops it into the container.
"I'm a scorpion hunter!" Perera says with gusto, stretching his back and surveying the rolling hills of Cuba's Santa Clara valley. The duo is one of a dozen or so teams that spend their days scouring rocks throughout the country in search of the misnamed scorpion, which is actually beige and mauve, not blue.
Back at González's nearby house, they add their catch to the dozens already inside a large metal barrel, covered by several rusty slabs. No living creature could possibly escape. "I've been stung 13 times in five years," Perera says. But neither he nor González is afraid. Though the sting of R. junceus hurts like hell and can cause temporary numbness, it's not deadly to humans. "People hate these animals," Perera reflects, genuinely confounded. "I say, Bring on the scorpions!"
Indeed, the scorpion might be one of the animal kingdom's most misunderstood creatures. Of the more than 2,000 species worldwide, only 20 to 30 are dangerous to humans, and in those cases, mainly to small children. Scorpions sting only when threatened.
The complete history of how Cuba stumbled upon its curative arachnid might never be known. There's no written account, and the man who discovered the blue scorpion's powers, a biologist named Misael Bordier Chivas, died of a heart attack seven years ago. But the story goes something like this: While testing several snake, spider, and scorpion venoms for a variety of ailments during the 1980s for the University of Guantánamo, Professor Bordier noticed improvement in rats and dogs taking R. junceus venom. He expanded his experiments and soon saw tumors decrease in size.
In 1993, word of his research reached a hotel manager named José Felipe Monzón living on the other side of the country in a town called Jagüey Grande. Monzón's 15-year-old daughter, Niurys, had all but lost a four-year battle with pancreatic cancer that had spread to her liver and intestines. Unwilling to give up, Monzón traveled to Guantánamo and begged Bordier for some venom. The professor mixed the first human formula for the girl, who appears to be in good health today.
Labiofam approached Bordier several years later. The state firm began tests that confirmed the treatment's safety. Given the promising results, the company decided to make it available immediately. Because government health authorities couldn't approve the medicine for sale so quickly, the company found a loophole: It started distributing it free to anyone who gave informed consent in 2003.
That practice meant a large amount of venom was needed. To get it, Labiofam created ascorpionario in the city of Santa Clara, where today more than 7,000 of the creatures wriggle in individual plastic containers on metal shelves.
"This is where the milking happens," says Manuel Valdés, a veterinarian clad in medical scrubs, latex gloves, and a surgical cap and mask. He's standing inside a small bare room in the Labiofam outpost. In the adjoining acclimatized rooms (71.6 degrees Fahrenheit), every scorpion has an ID number, coded for its region of capture and date of entry. The animals spend 40 days in quarantine — long enough for any pregnant scorpions to give birth and for any potential illness to be detected. Then they enter the venom rotation.
The scorpion twists itself backward as one of Valdés' colleagues uses two long metal tongs to try to steady the five-inch arachnid. "It takes a certain technique," Valdés says. The man aims the tail over a small glass jar sitting in a bucket of ice, and the scientist steps on a pedal attached to an electro-stimulus machine. As a jolt transmitted through the tongs reaches the scorpion, it releases six to 12 "micro-drops" of milky-white venom. "Each scorpion is milked once a month for two years," explains Valdés, who says the average lifespan of R. junceus is ten years. "Then it's released back into the wild to repopulate the species." The venom moves on to Havana, where for years it has been diluted with distilled water depending upon a patient's condition.
As soon as Labiofam began production, news of the free treatment traveled quickly. "I'd arrive at the office at 6 a.m. and there would already be lines of people around the block," Dr. Fraga recalls. (an area physician) Charter flights full of cancer patients started arriving from Europe. Weeks after an Italian journalist aired a video segment about the venom, hundreds of Italians showed up each day. "We never turned anyone away," Fraga says.
By 2010, the situation had become untenable. First, the government was anxious. In 2004, 2006, and 2009, Cuba's State Control Center for Medicine, Equipment, and Medicinal Products (CECEMD) — the country's equivalent of the Food and Drug Administration — was compelled to issue warnings regarding scorpion treatment. "Cuba does not yet have any pharmaceutical product based on the venom of the blue scorpion," Dr. Rafael Pérez Cristiá, director of Cuba's Regulatory Bureau for the Health Protection and Center for Quality Control, said in 2009. "At this moment, we do not have the documented evidence of the therapeutic action... that would justify its safe and efficient usage."
And supplies were running short. "They would need more than the entire scorpion population in Cuba to keep up production.
So Labiofam opted for homeopathy. This approach quickly gained approval, and Vidatox was born. The extremely diluted solution made it more viable to mass-produce. The 30-milliliter bottle is now available at Cuban pharmacies at a cost of $220 for foreigners and only 4 cents for Cuban residents. Labiofam still makes the original, drinkable formula but has stopped its all-access distribution program.
Another formula is in the works. Diaz's team has identified five proteins in the venom that have anti-tumor capacities and will use these as the basis for a recombinant or synthetic version. One of the proteins being researched is likely a peptide known as chlorotoxin (CTX), which can be derived from many scorpion species. It has been researched in relation to cancer for 20 years with limited results. Diaz says if these elements can be genetically cloned, the blue scorpions of the future will live in peace.
Perera, the scorpion trapper, might worry that these advances would put him out of a job — but he doesn't. He has something more important on his mind. "My father was diagnosed with prostate cancer about a year ago," he says, choking up. The elder Perera is undergoing chemo and drinking the venom daily. His son believes the fruits of his labor are helping his father feel stronger and more energetic. "I feel proud that I can be a part of bringing the scorpions to the people who need them."
But those who don't have the time or money or health to get to the tiny island have few other options. A handful of doctors outside Cuba administer the treatment, including a California oncologist who had an integrative-medicine practice in Tijuana, where he treated several patients from the States. "At first, we witnessed remarkable recoveries," Dr. Santiago Vargas wrote in an email, noting that he discovered escozul in 2005 and that his practice closed in 2011, but he did not indicate a reason. "Still, as we continued to recommend it, we found some inconsistency in the results; apparently it worked best for gastrointestinal tract cancers. I was told it worked well for most other forms of cancer; this was not our experience." He obtained the venom from Mexico City, where there's another physician who travels to Cuba every three months and claims to make the venom in collaboration with Bordier's son.
Those who can't travel to see these physicians must place their faith in online third parties. Labiofam has secured homeopathic licenses for Vidatox in 22 countries: China, Albania, and several in Latin America. The company's website lists official distributors for these nations. But because neither the United States nor Canada nor any European state has cleared Vidatox through a rigorous homeopathic standards process, venom seekers must rely on the black market.
It's particularly complicated for patients in the United States because an embargo prohibits any product of Cuban origin — be it medicine, a cigar, or a T-shirt — from entering the country, but companies say they have ways of getting the product to clients in the States regardless.
Cuban research aims at developing vaccines to prevent diseases. The Cuban medical and pharmaceutical industry largely aims its research at developing vaccines to prevent diseases and, as a result, lower the people's medication expenses. There are so many parents in the USA that refuse to get their children vaccinated.
Cuba attains higher health indicators than the United States using up to twenty times less resources, according to an article in Science Magazine by Paul Drain and Michele Barry, two scientists at the Standford University in California. It happens that there are no commercial or market pressures or profits on the Cuban model, while there is a successful educative strategy for the population as to prevention.
In Cuba, medicines are distributed to the people firstly, through the hospital network free of charge and through a system of drugstores that sell them at highly subsidized prices.
The Cuban pharmaceutical industry hardly uses money for publicity, which in the case of multi-national corporations this activity surpasses the budgets dedicated to doing research.
The Caribbean nation is also boosting the production of generics that it puts at the service of other poor countries and the World Health Organization, at a price which is much lower than those imposed by the big world industry.
The US economic blockade hurts the US diabetic population. In 2012, 29.1 million Americans, or 9.3% of the population, had diabetes. In 2010 the figures were 25.8 million and 8.3%.
The prevalence amongst seniors in the US is high. The percentage of Americans age 65 and older remains high, at 25.9%, or 11.8 million seniors (diagnosed and undiagnosed). The new cases that were found there was an incidence of diabetes in 2012 that was 1.7 million new diagnoses/year; in 2010 it was 1.9 million.
Deaths: Diabetes remains the 7

th

leading cause of death in the United States in 2010, with 69,071 death certificates listing it as the underlying cause of death, and a total of 234,051 death certificates listing diabetes as an underlying or contributing cause of death.
Diabetes in Youth
About 208,000 Americans under age 20 are estimated to have diagnosed diabetes, approximately 0.25% of that population.



Last but not least, it is important to note that the

US

economic blockade of

Cuba

hinders the marketing of Cuban pharmaceuticals in the

United States

, thus affecting the

US

people. For instance, a total of 80 thousa

nd diabetic people who undergo toe amputation every year in the

United States

every year cannot access the Cuban vaccine known as Heberprot-P, which precisely avoids such amputations.
Cuba is a magnificent example of how knowledge and scientific research can be integrated. The general director of UNESCO, Irina Bokova, once said that she was impressed at the scientific achievements of Cuba and expressed her organization's willingness to promote them around the world.
So then, the question to be asked here is: Will UNESCO be able to count on the crucial collaboration by the mainstream to promote the Cuban achievements? Will the USA learn how to distribute healthcare in a cost effective manner with the recent changes in our relations with Cuba? There is a lot we can learn from them. Only time will tell if the USA will learn anything from Cuba.
Posted by tammyduffy at 4:35 PM EST