1:59:40 A Marathon Record is Broken
Topic: COMMUNITY INTEREST
1:59:40 A Marathon Record is Broken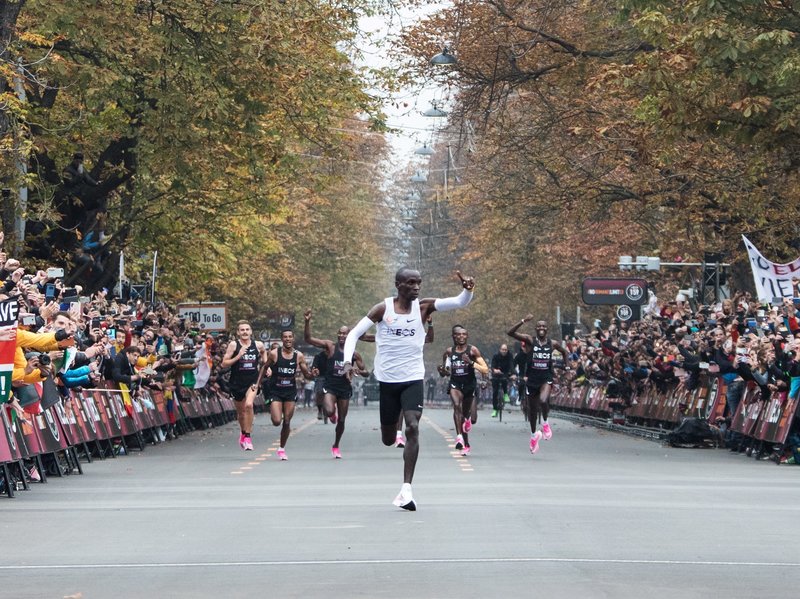 Getty images
On Oct 12 in the early morning, in a misty park in Vienna, Eliud Kipchoge ran a marathon in less than two hours. His time, 1:59:40, is the fastest any runner has ever covered 26.2 miles.
Eliud, a four-time London marathon winner, was accompanied by 41 pacemakers, which included the world's top athletes. However, the unofficial marathon attempt will not be recognized by the IAAF due to the various controls that were utilized to hit the record time. These 41 men helped push Eluid, shield him from the elements and follow a green laser that always kept them aware of 20 seconds below 2 hours.
The pacemakers ran in a formation to protect Kipochoge from the elements. A green laser also was projected onto the ground to alert the team where 20 seconds below the 2 hour time was indicated.
Kipohoge's level of motivation, mental and physical discipline and consistency is unrivalled. Under the long-term guidance of coach, mentor and friend Patrick Sang, Eliud first burst on the senior international scene as a teenager defeating track icons Hicham El Guerrouj and Kenenisa Bekele to 5000m gold at the 2003 World Championships.
Eluid then went on to enjoy a distinguished track career, winning 5000m bronze and silver medals at the 2004 and 2008 Olympic Games, respectively. He also won World 5000m silver in 2007 and his 5000m PB of 12:46.53 sits number six on the all-time lists.
After missing out on qualification for the London 2012 Olympics on the track, Eliud and his coach, Patrick Sang, opted to switch to the marathon – it has been an inspired decision.
During an unmatched marathon career, Eliud has claimed victory in ten out of 11 marathons, racking up an unprecedented nine successive victories over the 42.2km distance. Besides taking the Olympic marathon title in 2016, the Kenyan's ground-breaking performance as part of the Nike Breaking 2 project – when running 2:00:25 - suggests he is on the verge of the history-defining achievement.
Following Breaking2 and after also memorably destroying the world marathon record in Berlin last year by 78 seconds - courtesy of his stunning 2:01:39 mark – and running the second fastest marathon time in London this year, Eliud believes the time was right for him to prove no human is limited but also inspire future generations.
Born the youngest of four siblings in Kapsisiywa in the Nandi District of the Kenyan Highlands, Eliud's father died when he was a young boy and he was raised by his mother, a kindergarten teacher.
Inspired to run by his neighbor, the former World and Olympic steeplechase silver medalist Patrick Sang, the then teenage Eliud approached Patrick – who had started life as a coach – for a training program.
The gregarious and generous coach agreed and so began a hugely successful 18-year coach-athlete relationship in which Patrick has handed down his principles of hard-work, patience and discipline to his protégé.
A loyal and devoted family man, married to Grace and with three children, Lynne, Griffin and Jordon, Eliud acknowledges the inspirational role his family play in his life terming them affectionately as his "ignition key."
Naturally curious in nature and possessing a clear, analytical mind – Eliud has a thirst for knowledge and is a voracious reader of self-help books.
Known as "The Philosopher" for his carefully considered quotes he is always willing to share his wisdom to all those at his training base in Kaptagat where he is termed the "boss man" for his inspirational role as the de-facto camp leader.
Humble and caring he currently serves as an ambassador of WildAid and recently became a Daily Mile Ambassador, an initiative supported by INEOS aimed at improving the health and well-being of children.
Possessing exemplary principles and a moral code for living which inspires, Eliud is not only a very special athlete but also a very special human being.
Great moments in history are never achieved alone and this event was no exception. There were 41 amazing athletes that ran with Eluid. They allowed him to cross the finish line at a time that no man has ever done. Watching the video of the finish one sees how these incredible men push aside to allow Eluid to cross the finish as a solo runner, a solo record breaker.
The 41 amazing men who were the pacemakers were: Thomas Ayeko of Uganda, Joel Ayeko of Uganda, Selemon Barega of Ethiopia, Emmanuel Bett of Kenya, Hillary Bor of USA, Mande Bushendich of Uganda, Matthew Centrowitz of USA (MD), Paul Cheimo of USA (U.S. Army under its World Class Athlete Program), Augistine Choge of Kenya, Victor Chumo of Kenya, Filip Ingebrigtsen of Norway, Henrik Ingenbrigtsen of Norway, Jacob Ingebrigtsen of Norway, Philemon Kacheran of Kenya, Stanely Kebenei of USA(Arkansas) Justus Kimutai of Kenya, Shadrack Kipchirchir of USA, Noah Kipemboi of Kenya, Gideon Kipketer of Kenya, Jacob Kipilmo of Uganda, Marius Kipserem of Kenya, Eric Kiptanui of Kenya, Moses Koech of Kenya, Shadrack Koech of Kazakhstan, Micah Kogo of Kenya, Alex Korio of Kenya, Jonathan Korir of Kenya, Ronald Kwemoi of Kenya, Bernard Lagat of USA (WA), Lopez Lomong of USA (Arizona, Abdallah Mande of Uganda, Stewart Mcsweun of Australia, Kota Murayama of Japan, Ronald Musagala of Uganda, Kaan Kigen Ozbilen of Turkey, Jack Rayner of Australia, Chala Regasa of Ethiopia, Brett Robinson or Australia, Nicholas Rotich of Kenya, Patrick Tiernan of Australia, Timothy Toroitich of Uganda, Julien Wander of Switzerland.
Interesting enough, there were a set of 3 brothers who ran, they're running out of words to describe the youngest of the three Ingebrigtsen brothers – who at just 18 has already won what no other man, woman or boy could win in the long history of European distance running. Jakob came to Berlin off the back of a demanding schedule at the World Under-20 Championships in Tampere, Finland where he picked up a silver medal in the 1,500m and bronze in the 5,000m. "It's quite ridiculous that he's won, he's only 17 years old, that's madness," the father did admit. Henrik's personal record is unique too: 1,500m gold in 2012, silver in 2014, bronze in 2016, and now a fourth place.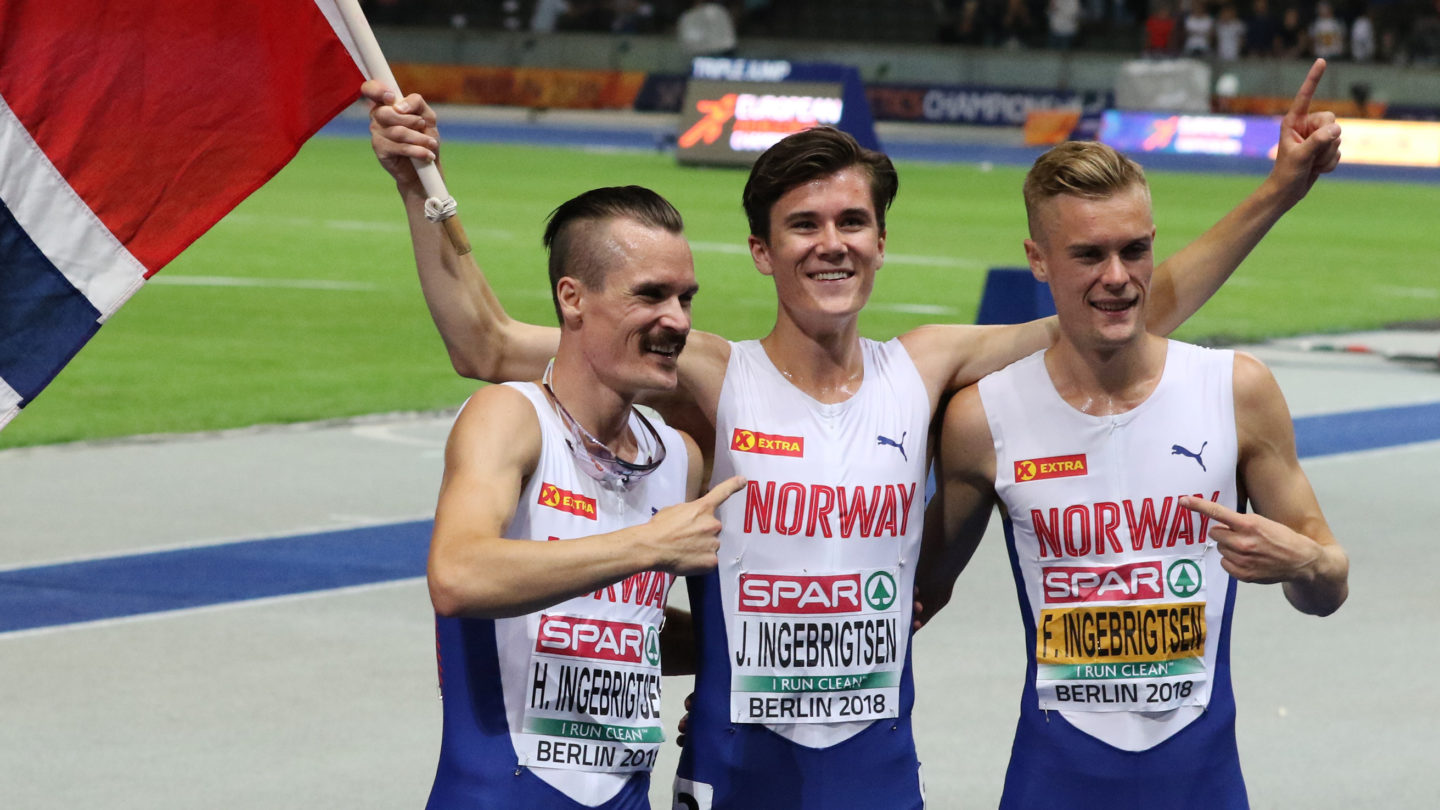 The two older Ingebrigtsen brothers (Henrik, now 28, and Filip, now 26) played soccer and competed in cross-country skiing as youngsters. They didn't focus on running until about 17. At that point, they gradually increased their training to 90- to 100-miles per week, all under the watchful eye of their father, Gert. In particular, he monitored the heart rate of all training sessions, and the blood lactate accumulation of interval workouts on the track.
Jakob (now 19) joined a track club at 7, participating in sprints, hurdles, and jumps. At 10, he ran an 8.2K cross-country course at sub-6:00/mile. He also skied competitively until he was 12, but quit the sport much earlier than his brothers. They were more sport generalists for many years, while Jakob became a specialist in his early teens. He saw his brothers success in distance running, and decided he wanted to follow in their footsteps.
The Ingebrightsen brothers appear to do one type of training in a manner different from many other runners. They don't do continuous tempo runs on their own. Rather, they run track intervals of 2000- to 3000-meters with their father taking lactate levels. This may prevent them from going too hard in such workouts—a trap that's easy to fall into.
The Ingebrigtsen's do a relatively high percent of their weekly miles (23- to 25-percent) running these long repeats at a slowest interval pace, about 82- to 92-percent of their maximal heart rate. With Dad nearby and measuring everything, they don't overcook the long intervals.
Dad isn't the only important parent. Their mother has always been an extremely important part of the family team. She always had food ready when we came home from training, and she has washed thousands of kilos of sweaty training clothes. She is also a runner.
"There are no limits for the 3 brothers. They have another brother who is turning five years old, and soon can join the team. In two years', time, we will be back to win four medals, not just three. Indeed, all three brothers have now each won the European 1,500m title, helping to prove as well that the old blue-ribbon event still hasn't lost all of its luster. Better. Smarter. More dedicated. The Ingebrigtsen mantra might be relentless, but it is propelling this family to greatness. Great teams can achieve what no human alone could ever achieve.
Posted by tammyduffy at 7:27 PM EDT