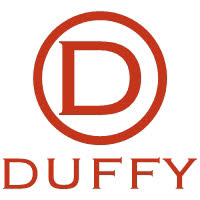 DUFFY Waldorf Astoria Runway Show 2011 link, click here to watch!
FOR IMMEDIATE RELEASE

New York, N.Y. (Sept 1, 2011) – Tammy Duffy's determination has paid off, garnering her a fashion presentation debut during Couture Fashion Week in New York City. The Collection will be shown in the famed Waldorf Astoria Grand Ballroom Presentation Space on Park Avenue in midtown Manhattan, Friday September 16th through Sunday September 18th. The Duffy Fashion Collection will be available for viewing on Friday the 16th from 4 to 9 p.m., Saturday and Sunday throughout the day from 1 to 9 p.m. This event will be held in the Presentation Room adjacent to the Grand Ballroom on the third floor of the Waldorf Astoria. During this Showing of the Duffy Collection thousands of fashion industry professionals and guests will have the chance to see the Tammy Duffy Spring Summer 2012 Collection and meet the Designer in person.

Tammy Duffy's designs feature "vintage silhouettes with feminine details and a modern touch, " she says. "A line you can take from the day to the evening."

Tammy Duffy's mother was her first influence. "She made all my clothes when I was a young child. I believe she is one of the many reasons I love fashion" Tammy explains. Tammy's inspirations comes from many muses including fashion artwork by friends, the artwork she does, the fashion photography she captures at the runway shows during New York Fashion Week, and from waltzing through fabric warehouses creating designs and new textures. "I try to think of my customer while putting together all those ideas, and I think of what she needs to pack for this once-in-a-lifetime look: a fashion getaway" Tammy Duffy says.

With her ideal client in mind Tammy Duffy creates designs for the modern and chic woman "who enjoy fashion and great quality and looking great every day."

A native of New Jersey, Tammy Duffy has been creating unforgettable feminine fashions for more than 8 years. Her driving passion is her love of art drawn from her experience and training in both sewing and painting. Her talents naturally progressed into sewing and fashion design. Tammy Duffy creates her couture fashions through draping over mannequins. Her contemporary designs are characterized by an exquisite attention to detail, impeccable construction, and the use of rich luxurious fabrics. She also designs one-of-a-kind gowns for that woman who wants to feel special as well as desirable. Bright colors, unique prints, intricate patterns, and extreme focus define Duffy's designs. Tammy crafts finely detailed looks that make a statement and are easy to wear.

"A woman's unique personality and taste are the most important aspects to consider when designing for her," says Tammy Duffy. "I work to bring out a woman's best features to make her look splendid." "Be strong !" she advises. "Follow your own vision and hope the public will agree." Tammy Duffy's eye for detail and extensive knowledge of color, fabric and form continue to be evident from one season to the next.


Tammy Duffy, CEO of Duffy is an active member in the FGI (Fashion Group International), AICI (American Association of Image Consultants), and the NAPW (National Association of Professional Women), and a global educator for women in business medical safety standards in the U.S. for global communities for the AHEC (National Area Health Education Center).

Look for DUFFY Fashion Designs at the Waldorf Astoria in New York City, September 2011. The Waldorf Astoria is located at 301 Park Ave between 49th and 50th Street. The location provides attendees with convenient transportation and access to the event via subway, buses, taxi and car service.

For more information, please visit us at FACEBOOK: Tammy Duffy of Duffy, TWITTER: FashionArtLady, Website: www.tammyduffy.com/duffy, and Email: info@tammyduffycom.

DUFFY Fashion Designs are available for purchase through her studio and online.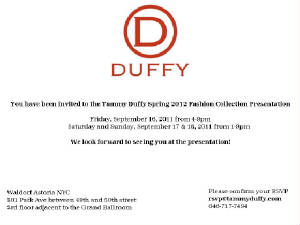 Tammy Duffy of DUFFY will have her runway debut at the Waldorf Astoria's Grand Ballroom on Sunday Sept 18 at 6pm. Go to this link to purchase a ticket for the runway show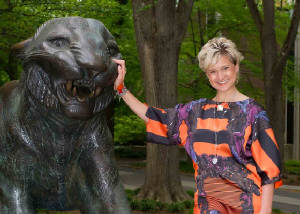 From Radiography to Fashion: Alumna Tammy Duffy
Debuts Line During New York Fashion Week
PRESS RELEASE BY MCCC
West Windsor,
N.J.
- For
Tammy Duffy, Ph.D., '86,
(A.A.S., Radiography), no obstacle is insurmountable. Challenges only fuel her determination to succeed. A true Renaissance woman, Duffy has enjoyed a multi-faceted career as a radiological technologist, radiation health physicist and sales executive. She has also made her mark as a painter and photographer and, most thrillingly at present, as a fashion designer. This weekend, Duffy's cutting-edge women's wear designs for spring 2012 will be among the featured collections in a presentation at the Waldorf Astoria as part of Couture Fashion Week in
New York City
.
It is a dream come true for Duffy, who is making her debut in the fiercely competitive world of haute couture in one of the world's fashion capitals. "I am still pinching myself," said Duffy, who creates her fashions from her
Hamilton
studio and launched her line earlier this year. "Creating lovely apparel for women is a joy."
Her fashion collection will also be featured in a Luxury Review show on Wednesday, Oct. 12 at the Metropolitan Pavilion. (Details
here
.) The guest list for this event includes members of the media, product analysts, product placement professionals, television and film executives, personal shoppers, stylists and affluent consumers.
Duffy credits her mother, who made all of her daughter's clothes when she was young, as her first sewing teacher. Later Duffy took classes in
New York
and online and pursued opportunities in the Big Apple with dogged determination.
"It was good luck and good intuition, and the help of a great friend who has amazing connections in the industry," Duffy said. "From networking over the years, I have watched many designers launch lines and have learned a lot about what to do and not to do."

Her foray into the fashion world began 12 years ago when she branched out from painting as a hobby after the death of her father, an avid painter. The hobby that they shared had been just what she needed to balance a successful, yet demanding career in the medical world.

The Steinert High School grad says she was originally drawn to radiography because she wanted to help people. After graduating from Mercer, she worked as a radiological technologist/CT scan technologist at Mercer Medical Center and Freehold Hospital. Returning to school, she earned a bachelor's degree in Advanced Radiation Science from in 1991, a master's in Radiation Science in 1996, and a Ph.D. in Health Physics in 1998.

"Mercer was a great place to get my start," Duffy said. Working full-time right out of high school to pay her way through college, Duffy found it easy to get work in her field and to transfer her credits. "Mercer more than prepared me to excel on the undergraduate and graduate school levels. I particularly remember Professor Bob Pugh. He is a tremendous leader and inspiration even to this day. At Mercer, there was a real sense of 'we want to make sure these kids excel.'"
Duffy's impressive resume in the field continued to grow. In later jobs, she was a radiation health physicist at Bio-Med Associates, Inc., in Flemington, a radiological equipment sales, training and support manager, a senior interventional radiology modality leader for Fortune 500 companies, and a director of operations and marketing consultant for small start-up companies.
Her experience in the small business industry proved especially useful as Duffy began to build her fashion business from the ground up. Networking proved essential. Traveling to various art, photography and fashion shows after her regular work day, she met many influential people, including the late fashion photographer Samuel Haskins. Informing him that she had submitted her portfolio to Mercedes-Benz Fashion Week ten times previously, he encouraged her to keep it up.
Duffy notes that she was also inspired by a memorable conversation. While attending a professional fashion organization meeting, Duffy shared her fashion aspirations with a board member. "The board member told me, 'You are too old to do this,'" Duffy recalls. "That statement really bothered me. I find when I am annoyed, I do my best work and thrive on that energy. With my business sense, I thought, 'Why not take the plunge?' I have not regretted it."
With the launch of MCCC's new Fashion/Apparel Design program this fall, Duffy looks forward to sharing her experiences and knowledge with MCCC students. "As you traverse through the industry, you cannot succeed alone," she emphasizes. "Keep strong people around you. Relationships in business are everything. Notice opportunities in disguise and embrace them. Think out of the box and create your own destiny."