What's Happening In Hamilton
Topic: COMMUNITY INTEREST
What's Happening In Hamilton?
In the state of New Jersey, the penalties for stealing money or property worth $75,000 or more include any or all of the following: restitution of the amount embezzled to the victim; a fine of up to $150,000, and between five and ten years in prison. For a theft of $500 or more, but less than $75,000. Penalties include: restitution; a fine of up to $15,000, and between three and five years in prison. Also, a theft of $200 or more, but not more than $500. Penalties include any or all of the following: restitution; a fine of up to $10,000; and up to 18 months in prison. Less than $200. Penalties include restitution; a fine of up to $1,000; or both.
Most of the time, when people thinking about employees stealing from their jobs, they think of people raiding the supply closet and bringing home boxes of pens and piles of legal pads. However, there's an even more costly form of fraud happening at businesses of all sizes across the country: payroll fraud.
Payroll fraud is surprisingly common, affecting about 30 percent of businesses annually. Businesses lose millions of dollars thanks to unscrupulous employees who take more money than they have earned. This isn't even accounting for the costs associated with investigating potential fraud and taking action against the perpetrators. In some cases, employees are ordered to pay restitution, but often, employee fraud results in losses for the company.
Timesheet fraud involves paying employees incorrectly for the hours they work. In some cases, companies overpay employees based on falsified timesheet submissions; employees might even have a co-worker clock in and out for them when they aren't even scheduled to work. In one common timesheet scheme, an employee will "forget" to clock in or out, thus requiring a manual entry, to which they then add extra hours. In other cases, a payroll clerk may be in on the scheme, and manually overriding employee timesheets to increase the number of hours worked, or even the rate of pay.
Timesheet fraud can usually be caught quickly via regular audits and review of employee schedules, and strict policies regarding timesheet submissions and changes. For example, a manager must approve any manual entries, and changes to pay rates, employee types, or a manager or human resources must document schedules in writing. Audits will reveal anomalies — such as the employee who is normally scheduled to work Monday through Friday suddenly clocking in on weekends — and stop fraud in its tracks.
A recent email that was released (see below) demonstrates a township employee requested to have 45 extra vacation days added to their paycheck. At the last Hamilton township council meeting, John Barrett, CFO of Hamilton presented some very interesting data. Evidently, there were also incidents where Mr Mulrine (who is the current Mayor's brother-in-law) signed government documents stating he was the "acting CFO". Evidently, in these documents Mr. Mulrine allegedly approved expenses for games (lawn darts, etc) that were purchased with bond money. It also appears in another document, he allegedly approved a year of travel expenses by his sister , who is the mayor in the town, for $4,600. The CFO stated at the council meeting as well that these behaviors were extremely concerning. That Mr. Mulrine had no authority to sign the documents in the manner he did. Also, allowing the disbursement of funds in this manner was extremely irregular. Mr. Barrett went on to say that he has a fiduciary responsibility to the town and reported these discretions to the appropriate authorities.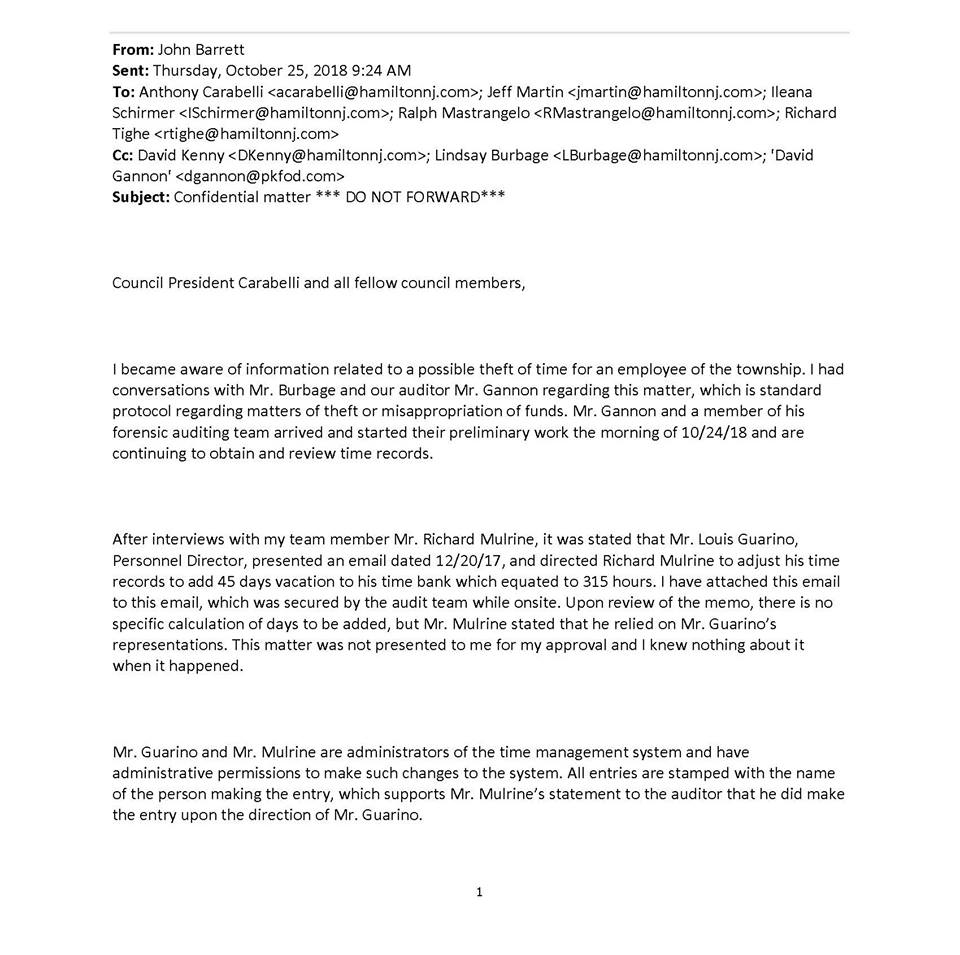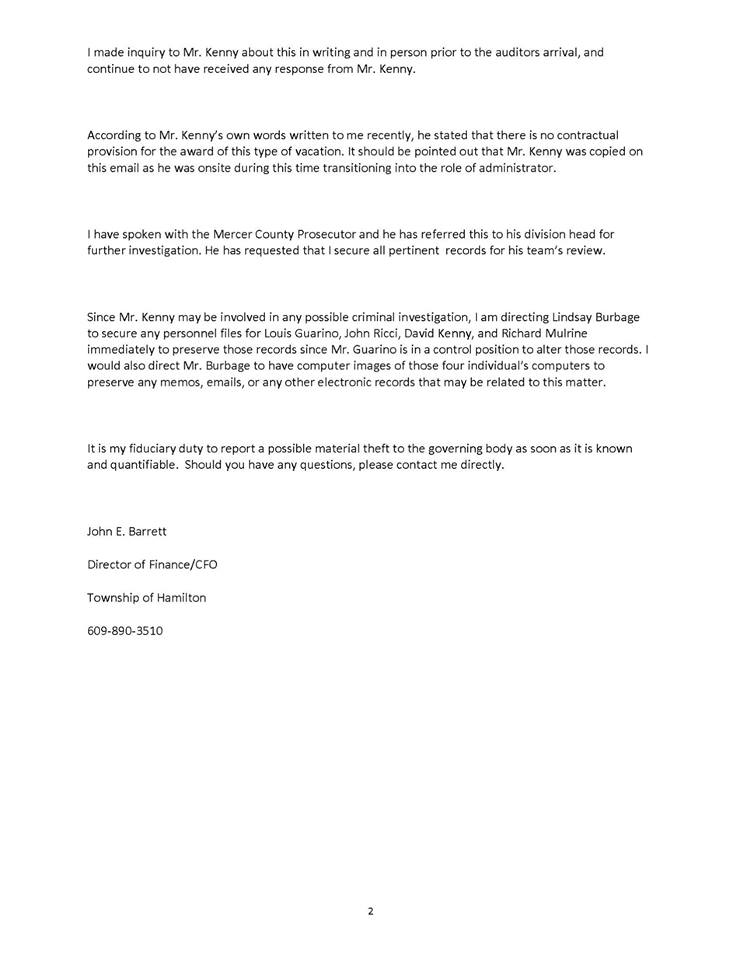 Posted by tammyduffy at 6:26 PM EST
Updated: Tuesday, 25 December 2018 6:30 PM EST