WORLD'S FIRST PET TERMINAL COMING TO NY
Topic: REEALY?
WORLD'S FIRST PET TERMINAL COMING TO NY
By Tammy Duffy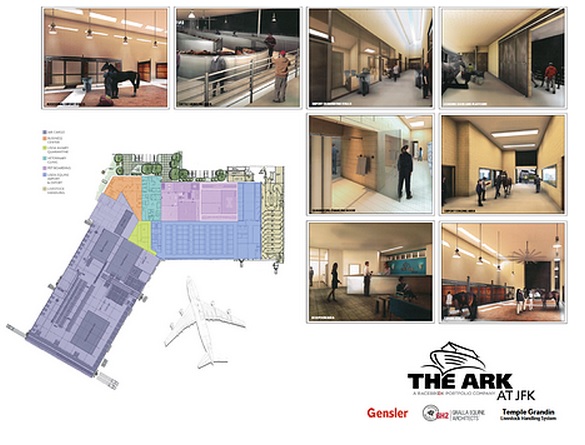 The world's first ever pet terminal will be built at JFK Airport next year. Named "The Ark", the state-of-the-art facility will cater for the overseas travel of everything from household pets to farmyard animals.
ARK Development, LLC, an affiliate of real estate company Racebrook Capital, announced this week that it has signed a 30-year lease with the Port Authority of New York and New Jersey to develop the mammoth facility. Spanning 178,000 square feet, the terminal will include direct access to the runway for animals, as well a 24-hour veterinary hospital and a 24-hour quarantine facility for the import and export of horses, pets, birds and livestock.

"The animal terminal will set new international airport standards for comprehensive veterinary, kenneling and quarantine services," said Founder John J.Cuticelli, Jr.

Indeed, the site is the first of its kind in the world. For those who are worries that air travel is about to go to the dogs, though, the project is also expected to give some puppy love to the economy. The $48 million development will create more than 180 jobs and generate revenues for the Port Authority of
New York and New Jersey estimated at $108 million over the span of the project's 30-year lease.

"The ARK at JFK posed a unique design challenge for us: to create a place that could ease and simplify the sometimes complex process of transporting animals by plane," said Cliff Bollmann, Senior Associate of Gensler, the architect firm hired to design the facility.
"For the animals who pass through The Ark, as well as the people who own them, air travel can be stressful and confusing. Aligning the needs of quarantine with kenneling and elevating the experience for animals and their owners, our design team sought to create a comfortable, healthy environment for them all."

Animals travelling through The ARK will be treated to a large departure lounge - including stalls, food and water for horses - and an arrival area complete with cattle handling facility. The site also includes an aviary and a veterinarian, plus Paradise 4 Paws - a 24-hour pet resort with overnight accommodations for cats and dogs, plus grooming, training, and airport parking.

The ARK is estimated to handle at least 70,000 animal passengers every year. There is no confirmation yet on whether they will have to travel two-by-two.
Posted by tammyduffy at 7:48 AM EST
Updated: Sunday, 25 January 2015 7:59 AM EST