Destruction of Public Records
Destruction of Public Records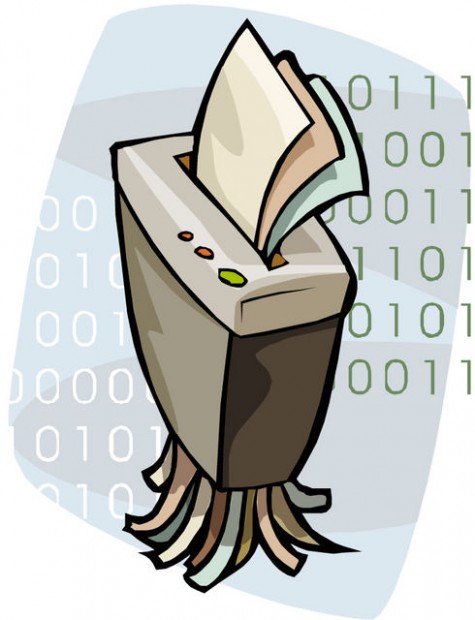 A good communications strategy is essential for any municipality to get important information out to its residents. Understanding what communication channels and tools are available to a municipality, and which are used by community members, is essential for making sure that a town gets word to its entire audience. The way people get their news varies from traditional forms of media, to word of mouth, to social media and other online sources. Municipalities need to be where the people are.
So much happens within every municipality that needs to be shared: upcoming events, new programs, sustainability initiatives, important updates, celebrations of success, changes in leadership, etc. Municipalities have an opportunity to share such happenings as a means of promoting the good things they are doing, as well as to inform residents of timely news. Since we know that people use different methods of communication to receive information, from the digital to the more traditional, municipalities have a responsibility to disseminate such news in a variety of ways.
A good communications strategy will aid in relationship building and restoring trust between residents and their government through strategies that engage the public in determining which channels should be used and what information is most necessary.
Every town must have a strong social media policy. The policy should be implemented to not only legally cover the towns butt — it is important that employees and citizens actually understand it.
Social media is a complex topic from both a legal and policy standpoint for municipalities. Every government institution must safeguard all digital social media in accordance with the PRA (Public Records Act). Issues to consider with respect to social media and the PRA include:
1. Ensuring that the agency has proper procedures in place to retain social media posts and associated comments with respect to official agency (as opposed to personal) social media accounts
2. Clarifying that use of personal (including campaign) social media accounts should not be used to create public records and providing guidance to agency officials and employees on best practices in that regard.
With respect to personal social media accounts, there has been clarification from the Court of Appeals that a councilmember's personal Facebook posts do not constitute public records if they are not created within the councilmember's official capacity. However, it is important to note that there still are situations in which use of a personal social media account may result in creation of a public record.
There are several important elements of agency social media policies including the following:
· Content posted to agency social media accounts is a public record
· Agencies need to maintain content on agency social media accounts in accordance with applicable retention requirements
· Posting secondary copies instead of original public records on social media is encouraged to avoid retention problems
What the law says…
All information posted and other activity conducted on a municipal social media site is subject to the Public Records Act and Office of the Secretary of State Records Management Guidelines and Retention Schedules.
All municipal social media sites shall contain a statement that all content submitted by users is potentially subject to disclosure pursuant to the Public Records Act. Where appropriate, users and visitors to the municipal social media sites should be directed to submit public records requests to the town's Public Records Officer.
All information and content on township social media sites are required to be retained under state and local retention policies and guidelines shall be maintained for the required retention period.
In order to ensure appropriate retention of public records, most content posted by municipal personnel on the town's social media sites; should not be original source content (content that has not been created anywhere else and only exists on the social media site), but rather a secondary copy of information that is posted on the website or contained in an electronic copy or a hard copy. If original content is posted on a social media site, that information shall be retained in accordance with the state records retention policies and other applicable laws, for at least the minimum retention period listed for those records beginning the date of posting. Copies of records the already retains elsewhere will be considered secondary copies and need to be retained accordingly.
Department staff are responsible for ensuring retention of the original-source content in an organized, searchable electronic format. The records should be retained in such a manner that it can be deleted after meeting the required retention periods. Any other strategy utilized would be in violation of the law.
All edits made to posted content and comments posted by outside users on a town's social media sites, including those that are inappropriate and removed by staff, shall be retained as outlined by the governance for each social media tool. When staff edits their posted content or removes inappropriate content, a record of that staff name, date, and time the content was edited or removed shall be retained in an organized, searchable electronic format. The records should be retained in such a manner that it can be deleted after meeting the required retention periods.
Today, the Mayor of Hamilton's Facebook page disappeared. This is a huge problem. There needs to be an OPRA request sent to the clerk's office searching for the certification of the destruction of this public record. In the event no certification exists for the destruction, this poses a huge problem yet again for the Hamilton administration.
In the State of NJ social media sites are subject to the State of New Jersey public records laws. Any content maintained in a social media format that is related to township business, including a list of subscribers and posted communication, is a public record. Whenever possible, such sites shall clearly indicate that any articles and any other content posted or submitted for posting are subject to public disclosure. Users shall be notified that public disclosure requests must be directed to the town's public records officer.
It amazes us how incomplete policies are in towns throughout the United States. The most common problems are: The policy is either way too sparse and skimps on some of the bases it should cover, or it's too convoluted and
Many government agencies want to get a policy in place quickly, but are not particularly confident that it is comprehensive enough.
Town's need to be crystal clear about privacy in their policy. You might caution employees that they have no expectation of privacy while using the Internet on employer equipment. If employees will be monitored, the policy should inform them of such monitoring. Also make sure to clearly state that employees should never post legally protected personal information that they have access to on the job.
Given the potential for criminal penalties in some states' open meetings laws government officials should be advised to avoid contemporaneous discussions or debates of public business (such as the benefits or impacts of a particular development proposal) on social networking sites or in chat rooms, and should ensure that their social networking interactions comply with applicable open meetings laws. Governments must be aware that state law may require that these records be retained indefinitely or that permission must be sought prior to destroying them under public records law, and that the records must often be provided upon request. A good rule of thumb is that governments should avoid creating new material on social networking sites and instead use existing material that is already maintained for local records law compliance. To have a non-government employee managing a government social media site is grossly negligent and can be viewed as misconduct of a government official. When a town has someone in charge of their IT department who knows nothing about it, this puts the administration in harms way.
All governments that use any form of online communication should develop, implement, and enforce a website and social networking policy. That policy should include a well-defined purpose and scope for using social media, identify a moderator in charge of the site, develop standards for appropriate public interaction and posting of comments, establish guidelines for record retention and compliance with sunshine laws, and include an employee access and use policy. The government should also post express disclaimers on its websites reserving the right to delete submissions that contain vulgar language, personal attacks of any kind, or offensive comments that target or disparage any ethnic, racial, or religious group. Finally, the government should train employees regarding appropriate use of social networking and how use might impact the employer.
Today, the Trentonian newspaper reported…
"Mayor Kelly Yaede is only a paper mayor; her online mayoral title has been at least temporarily stripped after the administrator took down her social media page likely in the last 24 hours after being painted as a liar by a township politico.
"Never get sideways with the guy who created your web pages," a source said. It turns out the man at the center of that front-page expose, Michael Sabo, was still the administrator of the mayor's official Facebook page."
A past OPRA request for a list of all the township employees, does not demonstrate Mr. Sabo as an employee at the township of Hamilton. Currently, there is a lawsuit against the Mayor of Hamilton for violation of first amendment rights of residents on this very Facebook page that disappeared today. The complexity of this disappearance is compounded due to the current lawsuit that was launched by residents for the violation of the First Amendment Rights on the Mayor's FB page.
It is the policy of the state of NJ that social media tools be accessed and used in a responsible manner. Official use of social media to communicate and engage with the public must be in accordance with all applicable Federal laws, regulations, and policies including those regarding accessibility; records management; information quality; and intellectual property. Today's disappearance of the township Mayor's official site is quite the situation. Employees must be granted approval to use social media, or other third-party services, to directly support or enhance activities being undertaken in an official capacity. This includes receiving approval to create social media accounts for locations, programs, offices, and employees that are to be used for official work. Social media accounts created as professional personas (for example an account dedicated to "Bark Ranger Gracie") for official business and maintained using government resources (staff time, devices, etc.) are the property of the federal government. Content created in an official capacity constitutes a federal record and is subject to relevant information related laws and regulations, including the Freedom of Information Act.
It is required that before gaining access to an official social media account, employees (including part time, seasonal, volunteers, and partners) must take the mandatory social media training and sign a social media user agreement. We bet an OPRA request could demonstrate interesting information as if pertains to the training of Mr. Sabo on the sacred approach that is needed to government documents as well as whether or not a certification for the destruction of the public record that vanished today exists. Giving an outsider full access to a government site where they have the power to delete years of public records on a whim is yet another demonstration of the gross mismanagement of the current administration. It is illegal to destroy public records.
Posted by tammyduffy at 8:04 PM EDT
Updated: Tuesday, 14 May 2019 8:08 PM EDT