DOCS WITH CLINICAL EMPATHY
Topic: COMMUNITY INTEREST
DOCS WITH CLINICAL EMPATHY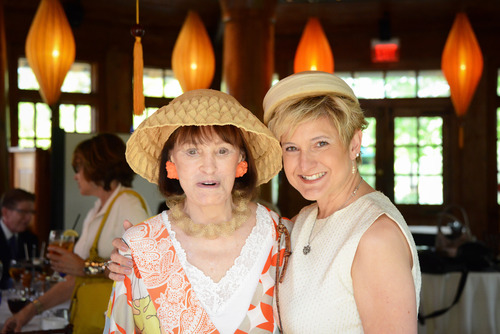 Gloria Vanderbilt and Tammy photo: David Steele
The American public is stressed. I went to meet with one of my clients this week, who was essential to helping me close a large deal. When people went to his office, we learned he left a note on his desk, I quit. He said nothing to know one, just left the note. The bad treatment that employees receive in corporate America is having a toll. So much for forecasting that deal to my boss. This reminded me of an episode of Sex in the City where Berger broke up with Carey on a post-it note.
The American population is also somewhat obsessed with good looks. The magazines, web, newspapers we read focus on driving this obscession. Being thin and having unrealistic expectations on how to obtain the looks that celebrities have; seems to be on the forefront of many minds.
The OED (for those who do not know, OED stands for Oxford English Dictionary) states that the word botched; means something that is carried our carelessly or badly.
In June 2014, the network E; launched a show entitled, Botched. This show is quite intriguing. The two doctors on this show, Dr Terry Dubrow and Dr Paul Nassif are the real deal. They are not just some plastic surgeons on a reality show, but men who are changing the lives of people. They are published physicians. There are patients on the show that the producers purposely seek out to add to the intrigue. Some patient cases on the show; demonstrate their quest for perfection; only to find physicians that could in the end only guarantee and give imperfect BOTCHED results.
The doctors on Botched, clearly are well qualified, well-educated/board certified plastic surgeons. The image they portray on screen demonstrates a rare breed in medicine today. It's refreshing to find a physician who actually cares about the patients. They personally take the time with the patients, not pawning it off to some PA. They create miracles for many of the patients on the show. The difficult cases are the most profound stories and have the largest impact for the patients on the show.
A physician who makes it their mission to do outstanding work every day. To take the challenges to get to the summits no matter how hard the climb, how treacherous the weather. They get there with their team, to the summit. These two doctors on the E show, transform the lives of many of the patients on the show. On the show, give their patients a new life, a new confidence that they may have never found.
Dr Dubrow and Dr Nassif make it their mission to do their best every day to bring beauty back into their patients lives. The show is more than just about plastic surgery, it demonstrates two doctors who have a level of clinical apathy that is stellar. They never seemed rushed, taking their time to ensure the patients are trusting of them. A trusting patient will have better clinical outcomes. Making these patients with radical botched surgeries feel comfortable is critical to the outcome to de-botch" the patient. Even when a patient comes in for something unrealistic, they are guiding in the most professional manner.
Bedside manner is all about the physician's total approach to patient care. It encompasses all the attributes of medical professionalism blended in with the specific personality of the individual and with the ability to comfortably communicate a certain degree of concern about the patient's welfare. Bravo to Dr Nassif and Dr. Dubrow, you care, and it shows. Your patients have better outcomes because of it.
Patients want to feel comfortable with the people with whom they are entrusting their lives. They want to feel like someone is on their side. They need to feel that the person who is advising them to do scary things like surgery is really concerned about them and has their best interests at heart. The medical transformations that are created by the doctors on Botched are amazing. There are times I cry watching the show as the patients are crying about their results. Results that now have changed their lives for the better; forever. It's touching to the soul at times.
When people feel unattractive due to a deformity, birthmark or botched plastic surgery, this is intensified by the rudeness of the American public. When people have a deformity, they are aware of it every day. They feel awful when someone brings attention to it. One can only wonder why people do this; for we do not need attention brought to it; we know it's there. There are times we are born with it.
Port-wine stains (PWS) occur in about three of every 1,000 people, according to the U.S. National Libarary of Medicine. They're caused by swollen blood vessels, which give a reddish-purplish hue to a certain area of skin. Most often, they occur on the face and deepen in color as a child gets older. They exist for life, sometimes growing thicker with time. Treatments like laser therapy, surgery and tattooing can often eliminate or lessen the appearance of the birthmarks, but there's no guarantee.
I was born with a PWS on my right arm that goes from my shoulder to my elbow joint. Though my entire life I have had to hide this, explain it and be ridiculed by children and grown adults. It never ceases to amaze me the radically rude things people say. My PWS is very unique (as they all are) in is shape and placement. It goes from my shoulder to my elbow joint. It is so much lighter today (see below) but the rudeness of the American public is evident once I uncover my arm.

2019 photo, where we are today with my PWS
In 2005, I visited Dr Eric Bernstein who is THE man for PWS. I learned about him from my friend who worked at a laser company. He is an amazing physician who has transformed cosmetic dermatology. My friend told me to go visit him after a day of ridicule by someone on my PWS and I was saddened by it. He showed him photos of my birthmark and I then I met with Dr Bernstein. He enrolled me into one of his studies where they used a 585 nm pulsed dye laser treatment. The study was investigating a prototype device, a high-energy 595 nm pulsed dye laser capable of delivering up to 9.5 J/cm2 using a 10 mm circular spot, with a 1.5 ms pulse duration.
After 5 treatments we saw results. It did not remove the PWS, but it made it 40% lighter and almost removed some of the PWS in areas. We did 7 treatments and stopped, for between the 5th and 7th treatments there were no changes.
I reached out to Dr Bernstein in 2014 by email thinking he would never respond. I had another day of ridicule and was saddened by it and wanted to see what new options were available. I asked for the photos from the original study he did so I could feel better about how far I had come with my PWS. He instantly responded with information. It made me feel better. He was so kind to answer me. That is who he is, he really cares about all of his patients.
Some of the comments made by adults to me are: "What is that on your arm, has someone been beating you? Has someone been sucking on your arm?" I was at a fashion event for Prince Harry's charity in California a few years ago and one of the Housewives of Orange County was in attendance to the event as one of the designers. She saw my birthmark and politely said," Why don't you go backstage and cover that with some makeup, its really unsightly?" She proceeded to bring it to the attention of the entire table. I do not wear makeup on my face and surely not going to put it on my arm. What I found unsightly was her comment.
These ridiculous statements are the reality. What people say is worse than the deformity at times. Only those with a deformity, PWS or botched plastic surgery can truly understand the hurt they create. I try to position myself in photos to hide it. The photo of Gloria Vanderbilt and I my right arm is wrapped around her so not to see it. She never questioned by PWS, she has class!
My PWS is a part of who I am. I struggle with going to have it removed, for no doubt the lasers available today would warrant an outcome of silence to my critics of PWS. If I could I would keep as much of my birthmark as possible because it's such a huge part of who I am. I would be a different person completely if I wasn't gifted with my birthmark and all that comes with it.
If I wanted to cover it up I could, but I don't want to use make-up, I like living my life this way, it's a birthmark not something horrible. I do not wear my birthmark with pride due to the fact of what others say about it. I thank a gem like Dr Bernstein for helping me in the past and being so willing to help me again.

Doctors like Eric Bernstein, Dr Nassif and Dr Dubrow, spend their days transforming lives. They make people beautiful again both inside and out.
Spring and summer are coming and so will the insults on my PWS. Bring them on, for if they are BOTHCED; I will just go see Eric.
Bravo gentlemen! Keep up the smashing great work!
You are true artists in the world of medicine.
Posted by tammyduffy at 5:36 PM EST
Updated: Sunday, 10 March 2019 5:53 PM EST