Design Flaws Attributed to Deaths and Injuries at Trampoline Parks
Topic: COMMUNITY INTEREST
Design Flaws Attributed to Deaths
and Injuries at Trampoline Parks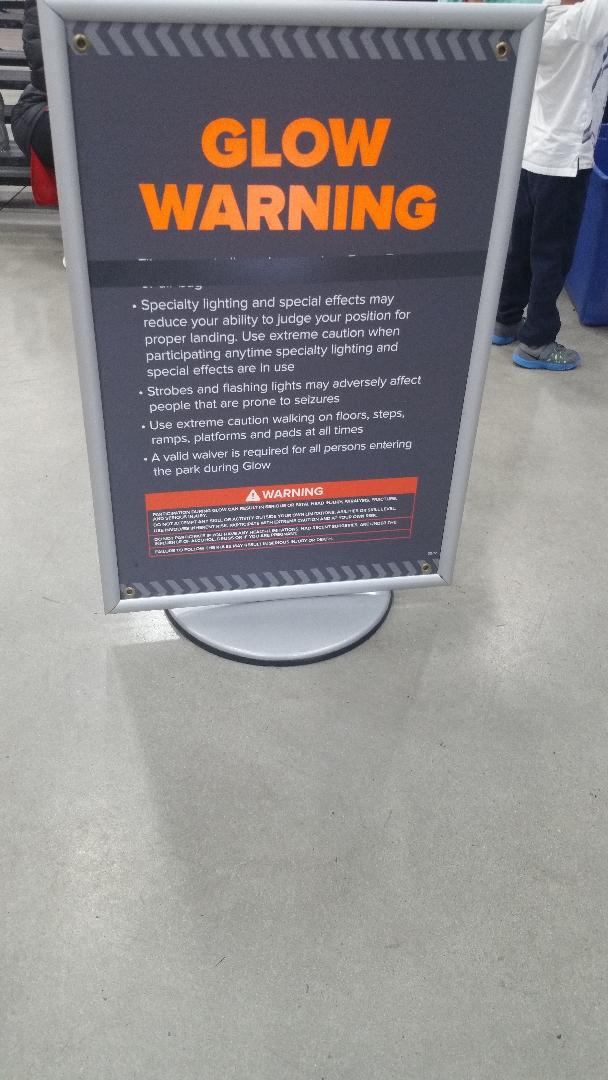 We visited Skyzone today in Hamilton township, in Mercer county to check it out and learn about the place. Our intent was to write an article to help promote the park. But upon entering we were stunned with what we saw, we cannot positively promote it. The vast majority of the patrons today were kids under the age of 12. Many of the children present were toddlers who just learned how to walk. I witnessed a 1.5-year-old little girl in glasses jumping on the mat as her Mom took photos of her. We had to question the common sense of the mother of this infant. Their child was on the same mat with 3 older kids. We also watched a mother weighing over 200 pounds jumping on a mat, then her child who weighed 40 pounds get catapulted into a foam pit. We also witnessed other kids trying to run up a ramp wrenching their necks each time they tried to get to the top of the ramp. None of the patrons are taught how to use the equipment, they are just let loose to go wild in the park.
At first glance, trampoline parks seem like a fantastic idea. They're a fun, relatively inexpensive place to take your kids so they can jump off all their excess energy. But those innocent trampoline parks can be a lot more dangerous than most parents realize
In the last 8 years, the number of trampoline parks have increased exponentially. In 2011, there were only 40 in the USA, now there are over a 1,000 around the world, 800 of them being in the US. In the US, they all operate with zero federal oversite. There is a rise in injuries at these parks across the United States.
State law makers in Utah have passed a law that focuses on the safety at trampoline parks in 2019. There are seven other states already with laws on the books (PA, TN, LA, UT, CO, KS, AZ, MI) that focus on the safety at these parks. They have implemented annual inspections as well as many other criteria to keep patrons safe. The laws focus on: 1. notification and education of risks 2. Equipment standards 3. Staff training 4. Restricted participant behaviors 5. Separation based on age or size 6. Operational issues 7. Staff supervision and monitoring of activities 8. Tracking of major injuries (protected information 8. Local governments issue and renew business licenses for parks 9.Third-party certificate of compliance with health and safety guidelines (issued by a qualified entity) 10. Proof of ability to respond to liability claim. Other areas of focus in the legislation cover: (a) the majority of activities e based in training or rehearsal and not recreation; 112 (b) the facility derives at least 80% of revenues through supervised instruction or 113 classes; and 114 (c) the student-coach or student-instructor ratio is based on age, skill level, and number 115 of students; or 116 (3) equipment used exclusively for exercise, an inflatable ride, or an inflatable bounce 117 house
A few days before the law went into effect in Utah in 2019, a high school football player was paralyzed at a park in Utah. In the last 7 years, there have been 6 deaths in the USA at trampoline parks. This number could be a lot higher due to the fact the parks are not required to keep accurate logs of injuries.
An adult on the trampoline can cause what is caused a double bounce, due to their weight as it hits the surface of the trampoline. A small child that then hits that same square is forced to the mat and is injured. The force of the trampoline coming back up from the higher weighted patron, and then a small child jumps on the mat, that force pushed the smaller child to the mat, in one case causing a child in NJ to break their femur. It took over a full minute for anyone working at the park to realize that the child was injured.
In the last few years, injuries sustained from trampoline parks have skyrocketed. According to the Consumer Product Safety Commission, the numbers are:
2013: 2,500 injuries
2014: 6,200 injuries
2015: 9,100
2016: 11,300
2017: 17,800
2018: Not available yet
The parks are lacking supervision, trained personnel, thinly padded walls next to trampolines. If a patron were to hit their head on that thinly padded wall, they would get a brain bleed instantly. There are foam beds that are way to shallow. When Skyzone opened in Hamilton, an employee at Skyzone shared with me that they had the wrong kind of foam in the beds. They only had the beige colored foam initially upon opening of the park. This foam did not allow for the proper safety and support to patrons. The establishment opened for business and it was then learned that this foam was completely inadequate (but the park was open for many months to patrons prior to the foam getting changed according to an employee). There is now multi-colored foam in the foam pits. But the question still stands if the pits are deep enough to elevate injury.
It may not come as a surprise that ball pits are a bacteria haven. The sheer number of kids jumping into the play place would suggest this to be the case. Just how much is found in ball pits, however, might come as a shock.
Dr. Erin Carr-Jordan, a professor at Arizona State, took her tools to a local McDonald's Play Place ball pit and found the following: "We found stuff that causes meningitis, food-borne illness, skin, hair, eye infections. . . fecal contamination, coliforms, quite a few things that can make children ill, and several of which are multi-drug resistant and potentially fatal." Luckily Carr-Jordan will not have to face these illnesses anytime soon, as she was swiftly banned from local area McDonald's locations after her findings were made public.
The ball pits in many fast food restaurants have been removed mainly because they are extremely unsanitary. The foam pits at the trampoline parks are no different. Parents often do not enforce strict rules while their children are playing there as they may be preoccupied or not be able to clearly see what their children are doing while in the ball or foam pit. This causing things such as food, band aids and even soiled diapers to be disposed within the ball/foam pit. It isn't practical for the cleaning staff at fast food restaurants such as McDonald's to clean the ball pit various times throughout the day so those items sit in the ball pit causing bacteria to spread throughout all of the balls. The same hold true at Skyzone. Most likely staff do not enjoy the maintenance of the ball/foam pits and it probably costs a pretty penny for the ball pit to be cleaned thoroughly on a daily basis.
We spoke to three different employees and asked how often they clean the foam, they responded with, "no idea we are instructed to change foam pieces as they get tattered." There is no daily cleaning of the foam according to employees. There are too many pieces to do that. They do clean them occasionally, it would appear from videos on you tube, but it is not clear how this is done routinely. What happens when a toddler's diaper leaks urine, a young child defecates by accident or vomits due to the significant motion and no one notices that. That will be grown in the foam pit for weeks until an employee possibly finds it during a foam swap.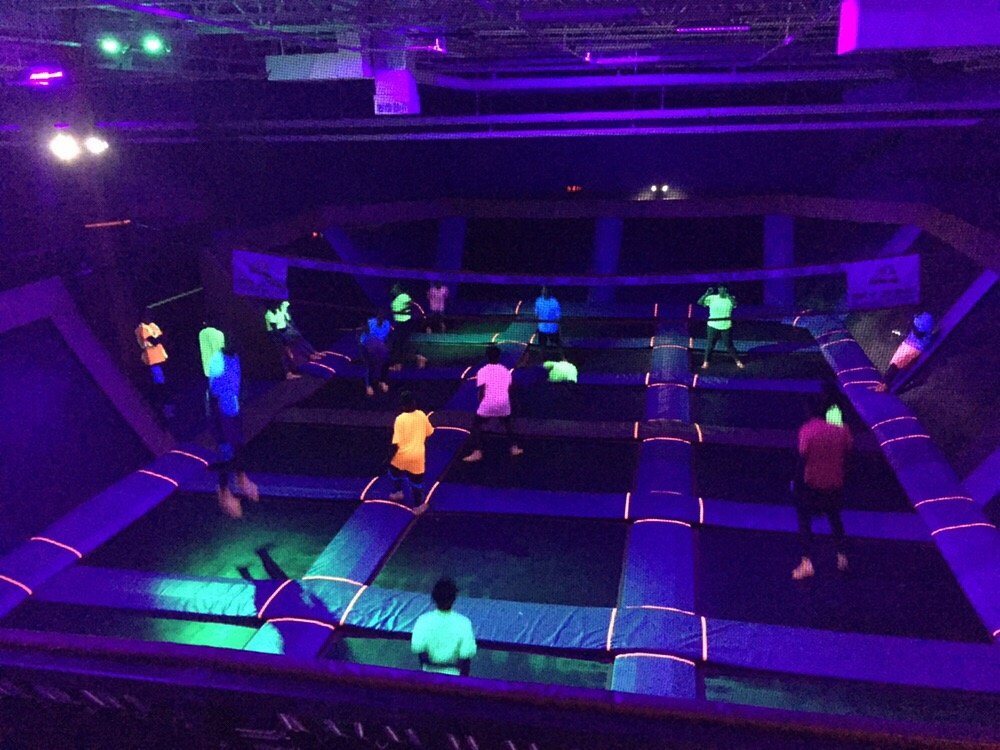 People are going to these parks not understanding the true safety issues. The Sooner family suffered a tragic loss with the untimely passing of Ric Swezey. Ric was an elite USA gymnast. A member of the 1991 National Championship team, Swezey also competed nationally with the Sooner cheer squad after completing his gymnastics eligibility.
Ric went on to put his gymnastics talents to use at Disney World. First, as a performer, in both the Indiana Jones Epic Stunt Spectacular and as one of the original Tumble Monkeys in the Festival of the Lion King show, and later as a recruiter who brought many of his fellow Sooners to live and work in Orlando.
Swezey also did stunt work for TV, stage & films, such as Waterboy, and worked with the innovative AntiGravity Entertainment Group. Originally from Colorado, Swezey eventually settled in New York City with his husband and their twins, where he became a top real estate agent with the Corcoran Group.
He remained an active and enthusiastic Sooner supporter, both as a donor to his alma mater, contributing to the Iron Cross Club, and a physical presence at Oklahoma gymnastics events around the world, including attending the most recent NCAA National Championships with his family.
He died due to injuries sustained at a trampoline park. In 2017, he visited a trampoline park with his partner and two children in VA. He was jumping on the trampoline when he came down wrong on his foot, stumbled and hit his head against a thinly padded wall. His C2 vertebrae cracked, which constricted his airway and blood flow. He was instantly paralyzed and 90% brain dead. He was at the park for 3 minutes. His family watched the lights go out in his eyes at the trampoline park.
The injuries that can happen at these parks can be life altering. Broken neck, broken backs, dislocated and broken shoulders or extremities are just some of the injuries that have occurred at these parks. These are catastrophic injuries. Trampolines at parks are interconnected and can have different slopes. Many people jumping at the same time increases the chance of collisions. Similar to a skateboard park or bicycle park, these parks incorporate games, obstacles and various geometric configurations. It's just like any sport you participate in, except we think, it's substantially more dangerous.
The Skyzone park on Friday and Saturday evenings from 9pm to 11pm has Glow events. These events turn off all the lights in the park. The only light is UV and black light. Patrons wear special t-shirts so they can be seen. However, the patrons fail to realize that their ability to adequately see and judge depth perception is significantly limited. Injuries can happen just because you have changed the light effect.
The danger lies in the design of these trampoline parks. Several trampolines are connected with chain links underneath with thin padding. As people jump waves of energy are generated in all directions which can cause double bounced that can end up in high impact collisions. The patrons at these parks are moving at speeds and with energy, that when they are hit by or with someone twice their weight, then end up with crush injuries. Injuries so severe they lead to death.
In response to the many deaths and severe injuries, the International Association of Trampoline parks has stated that there are parks that are not adhering to the industry standards. They are not operating with safety at the forefront of their agenda. There are 800 trampoline parks in the USA, only 25% of them are members of the IATP. We have reached out to Skyzone management in Hamilton and asked for their input on training of their staff, how they warn patrons (there is no warning, just pay and sign the waiver) how they clean the foam, etc. They were not available to speak to during our visit.
When patrons enter these parks, no doubt you are signing your life away and there are signs everywhere alerting you of the risks. However, they are not alerting you of the risks and the inherent design flaws that exist that can cause irreputable damage to yourself or loved one. Parents need to understand these parks are not just a place to play, but a place that their kids can get really hurt, permanently. Skyzone has a policy that anyone that can walk can go onto the trampolines. The American Academy of Orthopedic Surgeons recommends that trampolines not be used by children under six. The American Academy of Pediatrics, however, advises against trampolines for all children.
Commercial jump parks may contribute to higher-energy mechanisms of trauma than previously suggested based on data extrapolated from domestic trampoline use. Our data suggest that with the expansion of commercial jump parks, the incidence, severity, and economic effect of trampoline injuries may be underestimated. Jump park participants, legal guardians, and public policy-makers should have accessibility to accurate safety profiles. This implication is of particular importance as healthcare costs continue to rise, and public safety is emphasized as a prevention mechanism. This report also highlights the need for further evaluation into the economics and societal effect of jump park associated injuries.
As the town of Hamilton, Mercer County, appears to be focused on an entertainment district, we would like to challenge the administration on the following..... Do your research...please!
1. Why was the park able to open with substandard foam in their foam pits?
2. Is Skyzone documenting any and all injuries?
3. What does their employee training manual look like? Are they taught emergency first aid? It would appear not based on the conversations we had with employees there.
4. In essence, consider the implementation of the laws already in place in 8 states in the USA as it pertains to trampoline parks. This would focus on keeping the safety of the resident's front and center. This same rigor should be evident in any type of entertainment plaza planned in the town. It keeps residents safe.
Indoor Trampoline Park injury accidents can cause life-threatening physical injuries and trauma that can include financial damage to victims of negligent drivers. Injured victims must deal with large and unforeseeable medical expenses, loss of wages, pain, suffering and loss of quality of life. Family members also can suffer economic loss, mental anguish and loss of companionship in caring for an injured family member.
Posted by tammyduffy at 9:00 PM EDT
Updated: Sunday, 31 March 2019 9:02 PM EDT