See Something Say Something
Topic: COMMUNITY INTEREST
DUFFY'S CULTURAL COUTURE (DCC) REPORTS
A simple walk for a Hamilton resident in Veteran's park turns into a heroic moment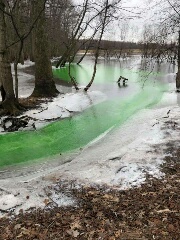 photo by Andrea Michele Herrick
See Something Say Something……the Hamilton residents since the epic shenanigans of the outgoing administration are on shenanigan alert. The residents do not want another administration that ignores public health and the environment. But there are times that things may turn out to be ok, but the public was not made aware of what was going on and that my friends is just as bad.
Government needs to be open, honest and forthright with their residents, the people they work for. They need to make residents aware when possible unique testing is being done so they do not alert residents.
A Hamilton resident posted some photos yesterday of Veteran's park. These were the photos that Andrea Michele Herrick took while she was walking through the park. These photos sparked the environmentalists and activists in Hamilton is wing into gear. There were calls made to the DEP, emails sent to DEP, Tweets sent to DEP, text messages sent to Dave Kenny: Business Administrator for Hamilton and other modes of communication to alert authorities on what was observed in Veteran's Park. The residents got zero response. They had no idea what the real answer was. This article is being posted at 11:15am on Dec 22, 2019 and there is still no response from anyone in a position of leadership.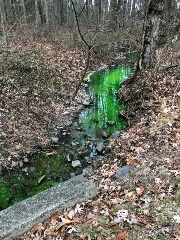 photo by Andrea Michele Herrick
DCC sent up an OPRA request to the township, but it will take 7 days to get a response. Here is what they requested. So, we ask that others in the township do not send up another request to clog the system. We really want to get a response to the residents in a swift and timely manner.
OPRA REQUEST….
"We are requesting copies of all work orders, contracts, for work to be performed and was performed in Veterans Park on the following dates for the calendar year of 2019. Please also include all documents that refer to investigative work on Dam Site #8 in Veteran's Park as well.
Friday Dec 20
Saturday Dec 21
Monday Dec 22
Tues Dec 23
On Sunday at 7AM, DCC editor, Tammy Duffy went to the park to validate the photo's and speak to daily walkers in the park. As she parked her car, she ran into a Hamilton resident. A resident who was walking their dog. She warned them of the "green" water and to be careful walking their dog. When Duffy asked if they knew anything about the green water the resident then said, "Yes, the Hamilton workers/hired contractor in the park yesterday poured antifreeze into the holes they dug. They were doing what looked like core sampling. To ensure the holes did not freeze over they poured antifreeze into them but as they poured the antifreeze it leaked out of the holes, they poured more to "freeze" it and the situation got worse. "The "green antifreeze" as seen in the photos obtained by Hamilton resident Andrea Michele Herrick.
However, as we began digging further, there is a question as to whether this is antifreeze or not. As many know during St Patrick's day in Chicago, they turn the Chicago river green. It's a harmless dye that they use.
There are also other materials out there that are used for lake testing. Here is a link to one such company and what their materials are used for.
http://www.keycolour.net/product-inquiry/tracing-dyes/
As DCC dug further they learned that the township has been lowering the level of the lake to do investigative work evidently on Dam #8 in Veteran's park. If this is indeed the case and why residents saw the shamrock water, why did they not post signs on every entrance of the park to alert residents? That would have been very easy to do. This was not the case. There was zero signage up in the park alerting residents of any such testing of Dam #8.
So, did the administration create a situation and alarmed residents for no reason? The OPRA response and any response from the township administration will optimize the confusion. DCC also learned that this coming week there will be boats in the lake to sample the lakes water quality, etc. An eyewitness's assessment was that antifreeze was being poured into the lake may not be correct, or is it? If no one responds, it leaves everything open to ones own interpretation.
If the green water is just a representation of a water tracer dye, that is completely safe and non-toxic to the environment. These tracers are used to determine the direction and rate of water flow in a system. The tracer dissolves in the water, producing a vivid Chicago River like appearance on St has Patty's day. This is used to test the diffusion and dispersion patterns. The way the dispersion of these products work does not appear to be in line with what is being seen in the Veterans Park lake. A simple response from the township could clear all of this up. Signage being put up in the park prior to the injection of a possible testing product could have also alleviate concern by residents. When there is military testing being done at Joint Base, they always send out a public notice a few days before that you are going to hear extra booms, see extra planes, etc. They care about their impact on a community and do not want to alert any resident unnecessarily. Hamilton could possibly learn a thing or two from the military, if indeed this is the case with the mystery green water.
In the event, it is not from any type of investigative work on Dam #8, then, Houston….we have a problem and it needs to cleaned up pronto. Antifreeze can pollute groundwater, surface water, and drinking water supplies if dumped, spilled or leaked, and is harmful to marine and aquatic life. While in an engine, antifreeze can become contaminated with lead or fuel to the point where it must be managed as a hazardous waste.
Here is a link to photos the the editor of DCC took today, Dec 22, 2019 at 7am. These were taken in the space spot as those by Andrea Michele Herrick yesterday. The green definately has dispersed through the lake. Is it ok, or not, we await a response from the Hamilton officials and the OPRA request.
https://www.facebook.com/Duffyculturalcourture/posts/1546677865494778?__xts__[0]=68.ARAu_PIINrFVS-qPEkNQpb6Ht7hax1Gy_PxMu99Nbau10Ye5_nL9qfyzHis2lrhf9T4-nm8Ix-hhk3opUPEy-5of8O0JUEYSk2Uhv4HIDDpwoTWPukcFeMJ6m1uydirab6KRi-oUON5mMgAzBQyH41WoQE1q13VnAGv5BL0RllBeezBVnSIcrFcJiQhnHXq6b_XXQ0sjAcMPbk5O6Pq9fbjsaSdoJtXDpj2k7TgT_ssk65NvueUh4lvsEi75aQCBo0EZENHt-w8t3Sx-BOhbBZBCrfJc9-qatgpbzfTXQeNZSl72rq3ymxNAR6f0IlD8R9Ci2PColuYtPfYqgIvwzpOjUA&__tn__=-R
Antifreeze is made of either ethylene glycol or propylene glycol. They are similar chemicals, but propylene glycol is significantly less toxic. Antifreeze spills should be cleaned up as fast as possible. Though propylene glycol is less toxic, ingestion of a small amount of antifreeze can damage the central nervous system, even causing death in some cases. Its bright green color and sweet taste can be deceptively attractive to those who don't know it is poisonous, like animals and small children. An estimated 10,000 cats and dogs are accidentally poisoned by antifreeze annually through ingestion. Antifreeze spills on lawns will kill the grass if not cleaned up immediately. Ethylene glycol antifreeze doesn't evaporate. Ethylene glycol in air will break down in about 10 days. Water and soil: ethylene glycol in water and in soil breaks will breakdown within several days to a few weeks.
Over time, antifreeze will break down and form acids that corrode the inside of the automobile's cooling system. In doing this, the antifreeze becomes contaminated with heavy metals, fuel and other grit from the engine. These include lead, tin, copper, zinc, iron and benzene -- some toxic. These substances, carried and deposited by antifreeze, can contaminate soil and water, poisoning organisms and damaging habitat. The heavy metals and other contaminants still pose a serious environmental risk. If antifreeze leaks out of engines or storage containers or spills on grass, it is often toxic and can hinder lawn and plant growth or kill plants outright.
Antifreeze may cause the water to change color, for example—there are secondary effects. Anything that gets into water undergoes a degradation process. This degradation depletes oxygen levels in the lake, leaving less for the aquatic life. It would be frightening if antifreeze was used in a project yesterday.
The potential Environmental Impacts from antifreeze are quite large. It can pollute groundwater, surface water, and drinking water supplies if dumped, spilled or leaked, and is harmful to marine and aquatic life. While in an engine, antifreeze can become contaminated with lead or fuel to the point where it must be managed as a hazardous waste.
So, Hamilton leadership…….do we have a problem or not? Please respond to residents. In the event there is not an issue, please put up signage in the future to alert those in the park that they will see this and not to be alarmed. There is an amazing sign shop that residents pay for in Hamilton, they could have made amazing signs for this. There are numerous ways residents can get communication if indeed this is a simple testing issue. The township webpage, an email, signage, use your tools.
Posted by tammyduffy at 11:19 AM EST
Updated: Sunday, 22 December 2019 11:23 AM EST