The Evolution of Modern Sports through the Eyes of 19th-Century French Artists
Topic: ART NEWS
The Evolution of Modern Sports through the Eyes of 19th-Century French Artists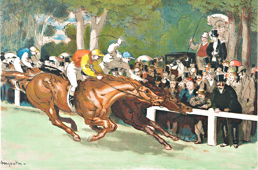 Drink more protein! Get some fresh air! Visit the employee gym! This is not advice from your favorite morning show or fitness magazine, but social messages promoted by artists in the new exhibition Sports and Recreation in France, 1840-1900 at the Zimmerli Art Museum at Rutgers. As Rutgers enters its first season of competition in the Big Ten, the Zimmerli visits late 19th-century France for a glimpse at the origins of how we perceive sports today. On view through January 11, 2015, the exhibition of prints, drawings, photographs, and posters by some of the era's most recognized artists – Jules Cherét, Honoré Daumier, Hermann-Paul, and Édouard Vuillard – reveals the 19th century's burgeoning interest in competitive and recreational sports, an interest now ubiquitous in our lives and in today's print and live media.
"Artists played a significant role in chronicling fin-de-siècle Paris. And they embraced the growing culture of sports, exploring new approaches to portraying the human body, as well as documenting contemporary life," explains Christine Giviskos, Associate Curator of European Art, who organized the exhibition, which is drawn from the Zimmerli's extensive permanent collection of works on paper. "Trends that started 150 years ago continue today with 'meetup' sports and recreation clubs, as well as attempts to garner women as participants and spectators."
Athletic endeavors historically had been the purview of the aristocracy in France. But over the course of the 1800s, the growing middle class sought more opportunities to participate, given their increased leisure time. In addition, following France's loss of the Franco-Prussian War (attributed, in part, to its troops' inferior physical abilities during this 1870-71 conflict), the country instituted a national agenda that encouraged all citizens to become more physically fit. Mandatory physical education in schools and employer-sponsored fencing halls were among the initiatives that stressed the social and physical benefit of sports.
Alexandre Lunois documented trends of the era in his 1898 lithograph La Partie de Volant (Lawn Tennis). An alternative to croquet (which had developed a questionable reputation because of illicit activities that accompanied some matches), lawn tennis became popular on private estates, as well as at public parks, increasing appeal across economic and social classes. This work also underscores the appeal of the game to women, who began to venture out more by themselves and deemed certain sporting activities as "safe."
As fencing began to gain more attention, artists portrayed amateurs and competitors. During the 1880s, several Parisian department stores and newspapers maintained fencing halls for their employees, a benefit similar to onsite fitness centers at large companies today. In 1908, Francisque Poulbot created a series of illustrations for an 1893 collection of vignettes that satirized office bureaucracy, Messieurs les Ronds de Cuir (The Pencil-Pushers) by Georges Courteline. Here, Poulbot shows two government functionaries, Douzéphir and Gripothe, practicing in an empty storage room. Well-known illustrator Hermann-Paul also documented this growing popularity with Tournoi Franco-Italien (French-Italian Tournament), a poster that publicized the event held in December 1895. According the extensive commentary in the Parisian press, it drew large crowds and inspired much debate about the relative superiority between the two national fencing styles.
Circus culture also flourished in Paris during the late 19th century – and with it, celebrity culture. By the 1890s, these spectacles were recognized as innovative performance art and respected on the same level as traditional theater. The performers were also lauded for their athletic abilities. One of the famous personalities of the era was Miss Lala, an acrobat at the Cirque Fernando, a permanent circus located on the edge of Montmartre. A staged studio photograph, from the 1880s or 1890s by an unknown photographer, emphasizes her gymnast-like physique. This portrait showing her standing firmly on the ground is also an interesting contrast to her signature feat: the Iron Jaw. In this traditional aerial circus act, the performer gracefully swings from the trapeze supported by only a bit clamped between the teeth, seeming to dance in midair.
Artists also celebrated cycling, a subject that lent itself to their talents spanning fine art, graphic design, and advertising. The increasing popularity of the sport was evident in the development of velodromes (arenas with tracks for racing) across England and France during the 1880s and 1890s, as well as the first Tour de France in 1903. It also appealed to women, giving them a sense of freedom. Hermann-Paul's 1896 lithograph Artistic Cycle Club, which included many members from the theater community, shows a rider fully dressed in the fashions of the time, leisurely walking her bike. The painter and printmaker Édouard Vuillard – who was well-known as a designer in the Parisian theater realm – chose an angle that is familiar today: sports merchandise. His poster La Bécane (1894) depicts a bicycle race in progress and declares that "Cyclists take Bécane, a restorative meat-based elixir." Gladiator Bicycle Poster, by an unknown artist from around 1895, also serves as an advertisement, with a collage of professional racers from the era promoting the Gladiator Bicycle Company, which also manufactured motorcycles and early models of motorcars during the first two decades of the new century.
Organized by Christine Giviskos, Associate Curator of European Art, with the assistance of Sara Green, Summer 2014 International Fine Prints Dealers Association (IFPDA) Foundation Intern. The Zimmerli Art Museum's Morse Research Center for Graphic Arts is grateful to the IFPDA Foundation for the award of one of its inaugural grants funding a museum internship focused on prints.
Posted by tammyduffy at 7:54 AM EDT