David Lynch: The Unified Field at PAFA
Topic: ART NEWS
David Lynch: The Unified Field at PAFA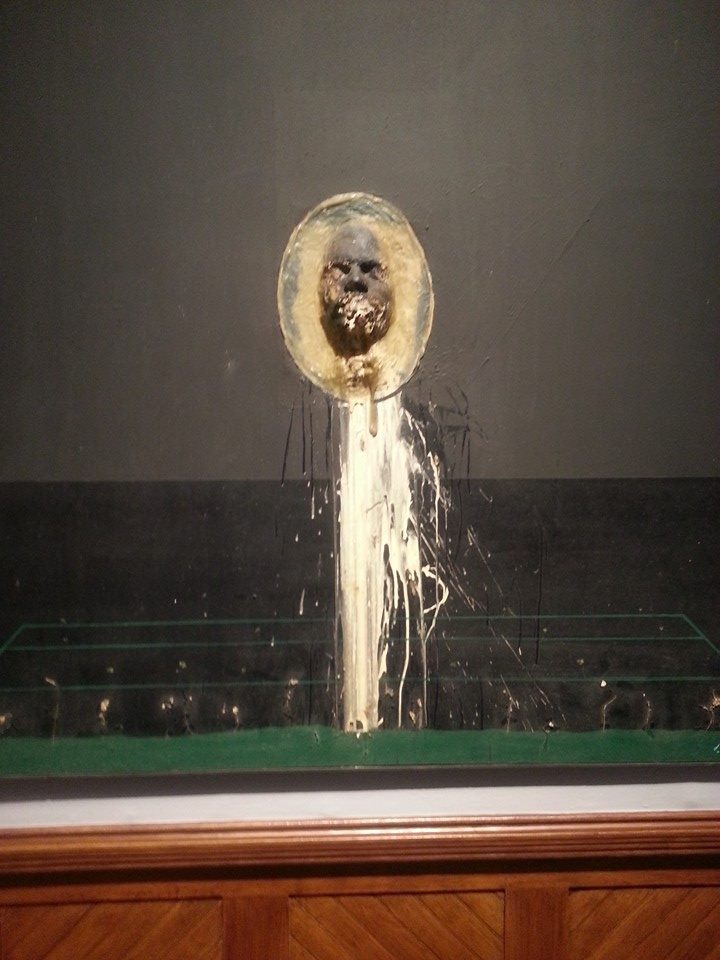 First Major U.S. Museum Exhibition of Eminent Filmmaker and PAFA Alumnus
September 13, 2014 – January 11, 2015
The Pennsylvania Academy of the Fine Arts (PAFA) presents David Lynch: The Unified Field, on view September 13, 2014 through January 11, 2015.
The Unified Field will be the first major U.S. museum exhibition of internationally-renowned filmmaker and PAFA alumnus David Lynch (b. 1946), featuring works from all periods of Lynch's career. The exhibition will feature approximately 90 paintings and drawings from 1965 to the present, many of which have rarely been seen in public. Included will be a section exploring his early work and its origins in Philadelphia (1965-70), which was a critical time in Lynch's creative development.
"PAFA's tradition of teaching emerging artists the figurative tradition found one if its most outrageously exhilarating practitioners in David Lynch. We are delighted to showcase Lynch's artwork in our Frank Furness building—the very place where his darkly human, body-centric artistic vision took hold almost five decades ago," says Harry Philbrick, PAFA's Edna S. Tuttleman Director of the Museum.
Born in Missoula, MT in 1946, Lynch attended PAFA from January 1966 until the summer of 1967, where he studied painting. At PAFA, Lynch studied with Leon Kelly, Julian Levi, Elizabeth Osborne, Morris Blackburn and Hobson Pittman, whose weekly critique sessions were significant to Lynch's artistic development. Lynch was drawn to the supportive community of students at PAFA, and his social circle included artists Buffy Beardsley, Robert Chadwick,
Murray Dessner, Jack Fisk, Tom Hatton, James Havard, Roger Lapelle, Noel Mahaffey, Virginia Maitland, Christine McGinnis, Eo Omwake, Tom Palmore, Peggy Reavey, Bruce Samuelson, Frank Skillman, poet C. K. Williams, and others.
While at PAFA, Lynch had an experience that led him to filmmaking. One night in 1967 as he was working in his studio, Lynch recalled, "I'm looking at the painting and fromthe painting came a wind. And the painting began to move. Two things: a wind came from the painting and the painting began to move. And I'm looking at this and hearing this and I say, 'Oh, a moving painting.' And that was it." This inspired Lynch's first project in film. Using a 16-mm wind-up camera, he produced a one-minute animated film related to his contemporary drawings and paintings that he projected at a sculpted screen bearing relief casts of his body. This multimedia installation, titled Six Men Getting Sick, brought together painting, sculpture, sound, film, and installation. The work won PAFA's second annual Dr. William S. Biddle Cadwalader Memorial Prize, and opened Lynch up to the possibilities of filmmaking. By 1967, he had decided not to return to PAFA, instead planning to pursue film studies. His subsequent shorts, The Alphabet (1968) and The Grandmother (1970) combined animation and live action and were made in Philadelphia.
In 1970, Lynch moved to Los Angeles to pursue filmmaking at the American Film Institute Conservatory. He went on to become internationally acclaimed as the director of films such as Eraserhead (1977), The Elephant Man (1980), Blue Velvet (1986), Wild at Heart (1990), Mulholland Drive (2001), and Inland Empire (2006), as well as the groundbreaking TV series, Twin Peaks (1990). In recent years, Lynch has initiated internet-based projects and recorded original music. Throughout his career, Lynch has continued to work as a visual artist and has maintained a devoted studio practice.
Among the qualities of Lynch's work that will be explored in The Unified Field is his ability to suggest infinite potential in a paused narrative. Many works present a tense, mysterious scenario suspended in the course of a story. In many cases, Lynch combines the human body with "organic phenomena" out of scale, in unlikely combinations, and embedded in the materiality of paint. Dark humor, often introduced through the inclusion of text, permeates much of the work. Lynch's ability to suggest the emotional intensity of his subject matter through paint textures, surface effects, and physical traces of his hand, brings intimacy and empathy to even the most disturbing narratives. Images of domesticity and pictographic depictions of the "house" are also recurring motifs in much of Lynch's work on view at PAFA.
The Unified Field will present a room devoted to Six Men Getting Sick, staged as it was originally presented in 1967, along with related drawings. The exhibition will include a selection of short films made while Lynch was living in Philadelphia shown continuously within the installation. In addition to The Alphabet and The Grandmother, this program will include a rarely seen group of 16-mm experiments and the previously unscreened film made at the opening of James Havard's Crayola exhibition at Dianne Vanderlip Gallery in Philadelphia (1967).
PAFA Senior Curator and curator of the exhibition, Robert Cozzolino, says that, "Throughout his career, Lynch has maintained that in Philadelphia 'something clicked.' Philadelphia was a dark and dangerous place, but it also fueled immense creativity for him. Lynch has said that the biggest inspiration of his life was the city of Philadelphia. The industrial ruins, urban decay and strange visual juxtapositions Lynch experienced in the city struck him as beautiful because of, rather than despite, the emptiness and horror."
David Lynch: The Unified Field will be accompanied by a fully-illustrated catalogue with texts by PAFA curator Robert Cozzolino, Susan Felleman, Professor of Art History and Film and Media Studies at the University of South Carolina, and Tom Gunning, Edwin A. and Betty L. Bergman Distinguished Service Professor, Department of Art History, Department of Cinema and Media Studies, University of Chicago. A comprehensive chronology by PAFA curatorial assistant Alethea Rockwell will appear in the volume, making it invaluable for future work on Lynch's visual art.
Posted by tammyduffy at 12:01 AM EDT