When BYOB Means Bring your Own Baby
By Tammy Duffy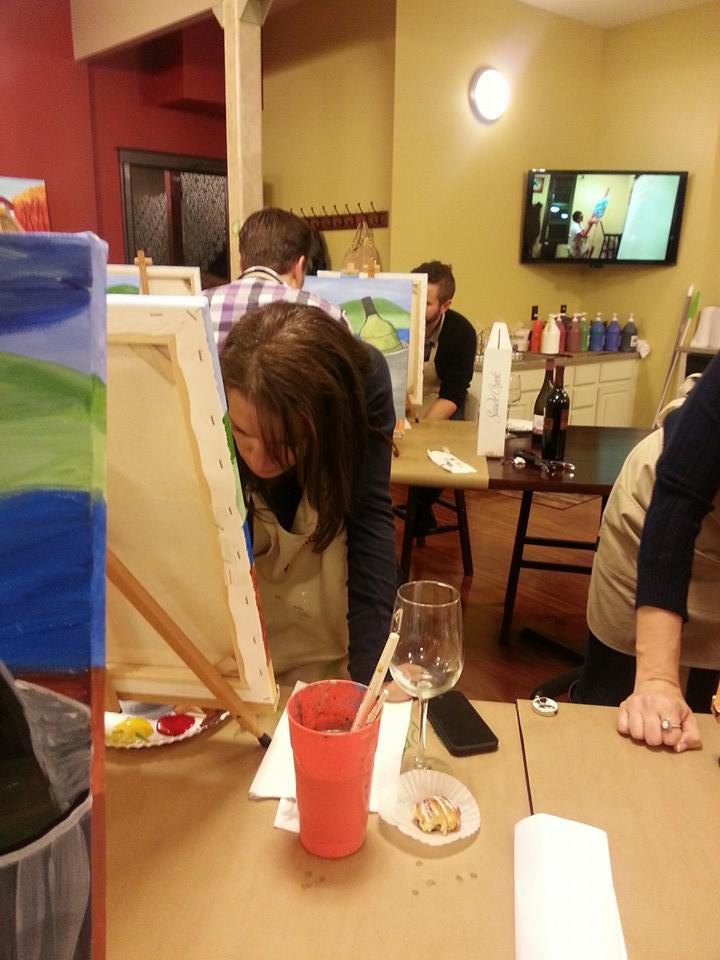 There is a relatively new business located at 85 South Main Street in Yardley, PA. The business is called, The Artist's Cellar, owned by Mary Jane Martin. This brand new BYOB is a place that allows patrons to "Paint and Sip".
The Artist's Cellar, believes that every one has talent and that people will enjoy pursuing an interest, the more you unleash your abilities. It is the hope of the owner of this art studio that both adults and children will come to the cellar.
The way it works is you go on line to their calendar and choose a painting that you would like to paint. You sign up for the class on line or you can also call them. Patrons are encouraged to bring wine, beer or cocktails to the classes.
As a professional artist I thought, let me give this a try. Let me see how this works and how I can educate the community on this new novice painting experience that is sweeping the United States.
Last evenings experience at this particular studio was unpleasant to say the least. I made my reservation several days in advance and received an email confirmation to attend the class. The receipt does not have any contact information on the studio, i.e. address or phone number. So before I left my house I had to Google, The Artist Cellar to find the address.
I arrive for my 7 pm class twenty minutes early. I only see one car in the lot behind the building. I thought that was odd. I walk to the front and walk up the handicap ramp on the side of the building, the doors were all locked. I then walk to the front of the building, I can see someone in the studio, try that door, it is locked. they see me but do not acknowledge me or help. I then walk around the back of the building and found a door open.


A woman, who I later learned was the owner said to me,"What are you doing here?" in a stern and inappropriate way, all the while giving me a look to kill. I responded with," I am here for the art class." She responded,"Well the class does not start until 7:30pm. So we are not open." Again, in a very snotty tone. I responded with," Ok, I will leave and come back, my bad I thought it was seven." She responded with," Good." After she said that I think she realized that what she had just said was beyond inappropriate and said, "You can stay." I honestly was so annoyed with her behavior that I left. I contemplated just going home. I very much value my free time and do not enjoy being treated with disrespect. A very unwelcoming atmosphere.
I left the studio and returned at 7:15pm. I noticed others were getting to the studio at this time. I noticed every person and group that came that they all did the "where is the entrance that has an unlocked door dance." This was quite odd due to the fact at this time there were now 3 people, the owner and two employees in the building. They saw every person struggle with the doors but gave zero acknowledgement to anyone…via giving directions to which door was actually open. There was signage placed on the sidewalk in front of the building, creating the direction that this was the door to enter….only to find the door was locked if your traversed the front sidewalk entrance. It was quite perplexing how they completely ignored everyone . We all had to do the "door dance". I also found it odd that if you have a handicap entrance that you do not unlock it for your patrons to use.
Upon entering the room one cannot help but notice the vastness of the room, the large monitors in the corners, and the number of paintings around on the walls and in stored space. I also noticed the lovely wooden floor that did not have one speckle of paint on it. I have never been to an art studio that does not have paint speckles on the floors that resemble abstract paintings in their own right. I proudly have one of these abstract painting floors in my art studio.
As I enter, I notice that people's names have been written on the brown paper that covers the tables, so I look for my name. I circle the entire room. I will also share with you that no one greets you as you enter to check you in or acknowledge that you are there. As I finish my lap around the room, I notice that my name is no where to be found on any of the tables. I then go up to the owner and said, I do not see my name. She said," Ok, let me have your name." I give it to her and she goes to her computer. She comes back to me to tell me that she cannot find me in her computer. I said,"Well, I have my receipt in my car would you like for me to go get it?" She responds with," Yes."
At this point I am annoyed but go and get the receipt. I come back in, give it to her and she says," Did you just sign up today?" I tell her," No, several days ago." The receipts that you are given to not demonstrate the day of your class, time, address of the studio, just the name of the painting you picked.
The owner then asks the one assistant to set up a place for me. She does and I am told to get an apron. I get one, but cannot help notice that they had not have been washed and reused from class to class. As an artist we are very familiar with a freshly cleaned apron versus the one that could probably walk to the easel on its own.
I live in Hamilton, NJ and we recently had a youth die from EV D 68, and no one knows where he got it from. There is no proof he got it from the school, but could have been a business, playground, etc. Adults can get EV-D68 and then give it to their kids. The virus can live on surfaces for 24 hours. So this bothered me greatly. I could only then wonder how they cleaned the handles of the brushes that they reuse from patron to patron.
The one assistant came up to me and gave me a paper plate of paint. She then said to me,"Sorry for the delay in setting you up, but you were late and we had to rush to set up your area." I had to do everything in my power to respond with a level of respect. I said to her," I was not late, definitely was here on time, was actually early, and did not ask you to rush." She then walks up to the owner, whispers to her, again another glare I get. Now mind you, I made it clear that I write the art blog for the Trentonian newspaper. So, one would have thought they would have been on their best behavior and been helpful.
As people began to settle in their perspective spots I could not help but notice the massive amounts of alcohol each group brought with them. One couple had two large growlers of beer and a bottle of wine, two gals that came, had numerous large bottles of wine,etc. There was not a couple that had less than 2 bottles of wine with them, some had even more. They are supplied with a large tub like ice bucket from the owner to keep their alcohol cold. The two ladies sitting across from me brought in a picnic and two very large bottles of wine.
The demographic of the people in the class I took were all white and I would guess that their ages were 25 to 34. There were three women that were above that age. The one team of gentlemen who came spoke about how they were the owners of Cream Ridge Vineyard, yet I found it interesting they were only drinking J. Lohr and Saudi Creek wines, 3 bottles for those two gentlemen. There was no doubt these gentlemen who said they owned Cream Ridge, clearly did not. They were about 29 years old. Why were they not drinking their own wines? Well, I have drank the wines from the vineyard and I am not a fan of them either.
The class begins and the instructor places the painting on the easel. The way the room was set up it was impossible to see the painting that you are there to paint, unless you sit in the front row. They had two projection TV's set up with cameras on the stage where the instructor was, but you still could not see the painting that way. If you are going to have all this technology to make it easier for people learn how to use it so its actually helps the patrons. As the instructor began teaching and painting she stood in front of the easel which also made it impossible from where I was sitting to see what to do. It would be better if there was a small copy of the piece for the night at each seat. This would ensure that people could not have to giraffe neck to see the painting.
There was music playing overhead which was extremely distracting and interfered with the instructor. I could not hear the instructor. There was never any acknowledgement to the patrons to see if they could hear. As patrons drank more the room became noisier also led to the inability to hear the instructor.
As we began to paint, we were all told numerous times, take care of our brushes, do not leave them sitting there to dry out and place them in the water. This was told to me at least 8 times during the class as well as to others. They actually too the step to place your brush in the water if you did not comply. I also got "scolded" for making my paper towel too wet that I used to clean off my brushes, that the wetness would soak through to the table. You also ran out of paint and were made to feel that you could not ask for more. They significantly underestimated the amount of paint that was needed for the painting.
The two women sitting across from me one hour into the class had already polished off one bottle and started their second. The one gal whose name was April, was inebriated. She began talking in baby talk for the rest of the class, quite loudly. I was sitting on the stool that is provided and all of the sudden heard a baby's voice. I thought, "Oh, a kid came that I missed. No, it was an adult who was drunk talking in baby talk. I thought where am I? Her friend was just as drink; at least she was refraining from baby talk.
The couple sitting to my left was on their first date. The guy seemed cool, the girl intensely competitive. She was constantly berating her dates painting. She went to the extreme to grab the instructor to have the instructor compare the two paintings all the while saying,"Mine is better than his, right, mine is better, mine is better." The instructor in the end agreed with her, I suspect to just quiet her and proceed. I would suspect there will be no second date.
The baby talking drunken adult then started singing loudly with her drunken friend. That serenade only lasted a few measures but then thwse baby talk intensified. It was outrageous. Neither the owner nor the staff said or reacted in any way to this outrageous behavior and allowed the two girls to drink. I then noticed that the numerous bottles of wine and growlers that people brought were also all empty. Yikes, anyone hear of DUI?
One of the patrons was having difficultly with the painting that was selected. I heard her talking to her mother and she does paint by number paintings. She did not know how to draw. She became very frustrated so the instructor and art assistance removed her from the room and placed her in the hallway (where there was limited light). They did not know how to help her. They set her up to sit on the steps that led to the second floor, no easel and her paints. I walked into the hallway and was horrified that a patron would be treated in this way. The art assistant did not know how to help people. Again, this unwanted feeling just metastasized through this experience.
The ergonomics of the experience are also worth reporting on. The stools that you are given are almost the same height as the tables. So when you sit on them you are way above the tabletop. The small easel that they place on the tabletops force people to hunch over like the hunch back of Notre Dame to create your masterpiece. I could have stood up, but was running a marathon the next day so did not want to be on my feet for 2.5 hours.You see that in the photo above. Even if you stood up patrons still had to hunch over.
We all finished our paintings. As a professional artist I found the pace of the class extremely slow and found myself waiting for the instructors next steps. However, for novice paintings, especially those impaired by alcohol, the pace seemed correct.
This new fast growing market of sip and paint events, I do believe offer a unique experience for the general public and corporations. However, the companies popping up need to be focused on their patrons, so they come back and recommend their studios to others. If you are professional painter this is not an event you would enjoy t attend I believe. However, you will enjoy teaching others who attend the events,so could be a great part time job.
The places starting up should ensure they grab artists that can teach others, not just kids out of college who have no experience dealing with the general public beyond twitter and facebook.
Posted by tammyduffy at 4:00 PM EDT
Updated: Sunday, 12 October 2014 4:04 PM EDT