Paws or Pedi's: The Advantage of a Medical Grade Pedicure
Topic: COMMUNITY INTEREST
Paws or Pedi's: The Advantage of a Medical Grade Pedicure
By Tammy Duffy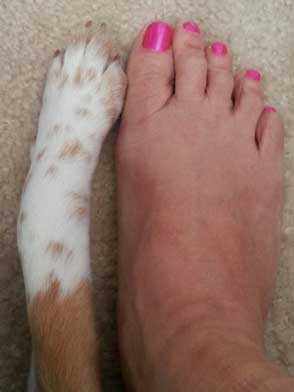 Our first mode of transportation as infants, is our feet. Our feet allow us to do so much. As we grow we stand on our feet, we dance, we run. sometimes in heels, all day. We even use them to hold open subway doors and a multitude of other tasks. We need to keep them as healthy as possible with regular care and early treatment for any problems.
As a marathoner and triathlete, my feet are an important asset. They are prone to stress fractures, sprains and strains. Calluses are part of my protective barrier to get across the finish line without a blister.Taking care of them is an important aspect of my training.
After a long marathon, nothing feels better than a spa pedicure at the local salon. For years I have gotten these pedicures. They used blades, utensils, the normal tools of the trade on my feet. I have watch friends get horrible infections from manicures and pedicures. I consider myself one of the lucky ones that I never had such an issue. However, once you read this article you will learn what is really happening in the industry. You will also learn the precautions you need to take to safeguard your feet. A medical grade pedicure is your answer. I will never go to another salon for my pedicure, only to a podiatrist.
Beauty Schools across the Country have suddenly seen a drastic 2 year drop in the enrollment of nail technology courses for nail technician's as a separate training discipline yet, cosmetology course enrollments have held steady. (Remember, nail technicians only do nails while cosmetologists do hair and nails.) The prices for nail technician provided services have also dropped for services providing manicures and pedicures nationwide in many markets. However, the number of nail salons have expanded exponentially throughout the USA. So, my readers, what do you think is happening?
If there is a significant decrease in enrollment how are there so many "nail technicians" out there? Here is what is happening…..one or two people will actually attend beauty school in a nail salon and teach the others in their salon. The certificates on the wall are fake in many instances. A quick search on line will show that their registration number does not exist or belongs to someone else. Therefore, they are not licensed, just been trained on the job. This is the unfortunate truth.
There are more than 70,510 beauticians, barbers, cosmetologist hairstylists, skin care specialists and manicurists licensed in the State of New Jersey. There are more than 9,237 shops, 702 cosmetology- hairstyling teachers and 28 schools are also licensed by the Board. However, there are only 11 inspectors in the State of New Jersey.
In NY State, there are just 24 inspectors assigned to probe all beauty, but with more than 10,000 shops in the city alone, there are dirty, dangerous and potentially deadly practices going unpunished.
Fungal and bacterial infections, hepatitis and HIV can be spread if salons don't follow safe procedures. In the U.S., some women have died after being exposed to unsanitary conditions at their salons.
I have sat in the waiting area of salons and watched what was happening in my home town. I have had manicures and pedicures for years at these salons. I found, over and over, dirty tools and unsafe, even illegal, practices, happening in the salons. I have gotten pedicures at the area salons and been victim of these unsafe procedures myself.
In New York and New Jersey, all files and wooden cuticle sticks must be new for each customer. But, this is not what is happening in the salons. What is evident is manicurists grabbing used tools over and over again for different customers.
The same goes for waxing: aestheticians should use a different stick for every wax application, but that often was not the case.
Clippers and any stainless steel tool must be soaked in barbicide — that clear blue liquid that kills bacteria on shared instruments — or other approved disinfectant, again, many salons do not even have barbicide at the salon.
The Board of Cosmetology and Hairstyling was created to protect New Jersey consumers who avail themselves of the services regulated by the Board and to promulgate and enforce regulations relating to the practice of cosmetology and hairstyling, barbering and beauty culture. The Board consists of 11 individuals who must be residents of New Jersey. The members of the Board are appointed by the Governor with the advice and consent of the Senate. Six of the 11 members must hold practicing licenses issued by the Board and must have been engaged in the practice of beauty culture, barbering, or cosmetology and hairstyling for at least five years prior to their appointment. One of the 11 members must hold a teacher's license issued by the Board of Beauty Culture Control or by the New Jersey State Board of Cosmetology and Hairstyling. They cannot get every where. Many salons have never been inspected.
Many women will go to the nail salon to be pampered and may get something they don't expect. They could get an infection, MRSA, HIV, Genital Herpes, fungi, bacteria, skin ulcers, etc. Many of these ailments require surgery, grafts or laser surgery to correct.
A Fancy Nails in Watsonville was shut down after investigators found high levels of tuberculosis-related bacteria in all of the salon's footbaths. The owner of Fancy Nails admitted to state investigators that he never cleaned the suction screens in the footbaths where debris from hair, skin and nails accumulate — that is where the bacteria is believed to have built up. When you walk into a salon, ask them when they last cleaned the screens. Ask them to show you the screen. If they refuse, walk out.
The majority of the salons simply had poor sanitation practices. Nail buffers and emery boards, which are supposed to be thrown away after one use, were being used on customer after customer.
Part of the problem may be that almost half of all nail technicians nationwide are immigrants for whom English is a second language. They may not be able to read the labels on the disinfectant itself because the labels usually are written in English.
The competition is very intense to cut prices amongst the salons. The technicians are paid less, so perhaps they're not as skilled. Salons cut back on the quality of you disinfectants, or maybe you don't even use real disinfectants. Ask to see the MSDS sheets for the products they use to disinfect. You will be surprised at the results. I can guarantee you will walk out after this little analysis.
Many inspectors found many discount salons using heavily diluted disinfectants — in some cases, not sterilizing instruments at all. Tests on one set of clippers found bacteria from human feces.
Many salons were caught using razor-sharp credo blades to scrap calluses from customers' feet. Credo blades are illegal in salons (NJ and NY are one of the 45 states where they are illegal) because they are likely to cause bleeding and exposure to harmful bacteria. I personally have had Credo blades used on my heels of steel at the salon near the Acme on RT 33 in Hamilton, NJ numerous of times.
The manicure and pedicure industry is a six billion dollar industry. Fungal infections are on the rise in the salons due to the massive pressure to succeed and get as many customer through the salon each day. Be careful. The salons are dirty. They are transferors of hepatitis, HIV, Fungus and bacteria, etc. Many salons have never seen an inspector. Ask the salon when the last time they were inspected. If they look at you sideways or say,"Never.", take that response as your signal to walk out.
Files and wooden cuticle sticks must be new for each customer. However, upon visiting salons, this is not the case. Hospital grade disinfectants like Barbicide have to be used, however many use Windex vs Barbidcide or some other "mystery cleaner." Dubious UV light "disinfectant machines" are used. However, they are not approved for disinfecting devices.
Have you ever gotten waxed? Watch how the do it? Do they change the wax stick each time they are applying wax to you? I have had my eyebrows done in the past and they did not change the wand. They use the same stick for you for your entire treatment. No double dipping!! I have seen behavior utilized in high end spas being done. One can contract genital herpes for this technique. Hepatitis B can also be easily contracted this way as well.
Foot spas or pedicure baths should be washed and disinfected after each use in accordance with the disinfection requirements for that state. Did you know that the row of chairs are actually recirculating the water all day between each chair? So, if the filters are not cleaned rigorously or professionally cleaned, whatever your chair mate had ailing them, now becomes your ailment. When you enter a salon ask them when the last time they had the filters professionally cleaned. If they cannot answer or hesitate, walk out of the salon. In the event the footbaths are not clean, the chance you will get an ailment is 100%. Even if the tools are clean that they use, if the footbaths are filthy, your days are numbered in regards to foot health. Serena Williams in 2011 fell victim to a filthy footbath, impacting her athletic ability that year.
The concern should not end there. We all have aging family members. Be aware as they enter nursing homes and long term care facilities. Some nurses and podiatrists or podiatric assistants are going bed to bed cutting nails in nursing home with one pair of nippers and wiping them off with alcohol wipes. This pattern of disinfection fails miserably, in fact it is worse than what nail salons are doing nationwide because they are "licensed" to know better. Podiatry assistant's programs are voluntary and depend entirely upon how a podiatrist wants to use them. They are not state licensed individuals who have completed state prescribed testing.
So how do we avoid all of this bacteria ?
Get a medical grade pedicure, end of story. The likelihood that states will change their behaviors with inspections is unlikely so you must protect yourself. There are different ways that medical pedicures are offered. They can be done in a podiatric doctor's office. A doctor's office that has a very expensive autoclaver on site to sterilize the tools that are used for your pedicure and manicure. Some podiatric practices only have the physicians do the pedicures (this is my favorite as an athlete). Some practices have state registered nail technicians do the pedicures within their podiatric practice or some have an advanced trained nail technician do the pedicure in their practice.
There is an argument that these advanced trained individuals are going to be taking over our industry, this is inaccurate. State laws prevent them from acting in an advanced capacity unless they are under a physician's license. Let's face it, those podiatrists who hire people to do routine care, can hire someone one day and they are cutting nails for them the next day. This is unacceptable unless they come to the table with advanced skills. Make sure you ask the question when you make your appointment, who is doing the pedicure? What are their credentials? Just because it is advertised as a medical grade pedicure, does not mean it really is done by a professional.
Do nail technicians already do advanced care illegally with or without the benefit of training? Yes, every day. Not a single state cosmetology board has enough inspectors to stop it now or in the future. Make sure you ask the right questions when you make your appointment and keep asking them when you get to your appointment.
There are podiatrists across the country who have already recognized basic nail technicians are the only licensed individuals to provide beauty services to hands and feet in every state. One of the first podiatrists to do this was Oscar Mix. He incorporated nail technicians directly into his practice over 20 years ago. They just need extra advanced training to perfect their current skills and be real assets to a practice. Interestingly, there are also podiatrists who have surgical practices or specialty practices referring patients to nail salons without medical oversight instead of our brother podiatrists to handle routine foot care. Yes, this also happens all the time.
A medical-grade pedicure is the perfect way to relax and treat your feet to much-needed care and attention. It complements medical treatments of foot ailments by preventing foot disorders and can be a helpful support in healing. It's the ultimate in luxurious foot care.
While a traditional cosmetic pedicure focuses on making your toenails look as good as possible, and gets rid of some dead skin, it ignores real problems and sometimes creates them. Not to mention, your feet are on display in front of all the other customers.
Unlike nail salons, podiatric professionals are trained to examine and treat foot and nail disorders using advanced equipment and tools…and the strictest hygiene protocols. A medical pedicure is an esthetic and therapeutic foot care treatment performed in the private setting of a medical clinic.
A medical pedicure is a non-invasive, wet or dry procedure performed by highly skilled foot care specialists or the surgeon him or herself. This is combined podiatry with nail care. Guaranteed to be safe and hygienic, it addresses issues such as: Athlete's foot, corns, Calluses ,dry cracked heels, Fungus, Ingrown/overgrown toenails, nail discoloration. Even if you have zero ailments you can still go for a medical grade pedicure. This ensures that you will not put yourself at risk, the risks earlier explained in this article from a regular nail salon.
You will not be picking out your color at most of these medical grade pedicure sites. Your bare, buffed toenails look gorgeous on their own, so they actually don't stock nail polish.
If after reading this article you are still compelled to go to a nail salon for your pedi treats, please follow the follow advice….
Always get a new pair of shoes; and toe separators. These are commonly reused in salons. If salons have a bucket that says, Place toe separators and shoes here", the likelihood they are reusing these items is quite high.
Never let your waxer double dip a wax applicator stick; watch them like a hawk!
Always make sure your waxer and pedicure attendant wears gloves; you have no idea what they just touched.
Be sure all tools are soaked in barbicide before they're used on you; if not, walk out of the salon
Bring your own buffer or pumice stone, files and pushers or ask for a new one for your service. If they refuse to use yours, walk out.
Seeing a "sealed package" with tools in it does not guarantee that the place is using a $5,000 autoclaver to clean their utensils. Make them show you the autoclaver!
Bring your own pumice stone and scraper, nail clipper, cuticle clipper, etc
Even doing the above will not ensure "happy feet". The minute you place your feet in a bacteria riddled footbath, it's game over.
So, lets emphasize the importance of a medical grade pedicure one more time by sharing another example from the CDC.
In 2000, an outbreak of Mycobacterium fortuitum furunculosis affected customers using whirlpool footbaths at a nail salon. They swabbed 30 footbaths in 18 nail salons from 5 California counties and found mycobacteria in 29 (97%); M. fortuitum was the most common. Mycobacteria may pose an infectious risk for pedicure customers.
Before this outbreak, M. fortuitum and other rapidly growing mycobacteria (RGM) caused localized cutaneous infections but usually in a healthcare-associated setting with surgical or clinical devices contaminated with water from the hospital or from the municipal water system. In the nail salon outbreak, they suspected that the mycobacteria entered the footspas through the municipal tap water and thrived in the large amount of organic debris accumulated behind the footspa recirculation screens. However, cultures of tap water at that nail salon later in the investigation yielded RGM in the M. chelonae-abscesses group but not M. fortuitum.
Since RGM are commonly found in municipal water systems, and since the nail care business is a $6 billion and growing industry in this country, the CDC hypothesized that similar whirlpool footbath–associated RGM infections occurred sporadically but went unnoticed.
Five large counties from different parts of California (Alameda, Sacramento, Orange, Riverside, and San Diego) participated in the survey. Counties chosen served large populations and had multiple nail salons with whirlpool footbaths. In each county, a team including the regional investigator of the California Bureau of Barbering and Cosmetology and a local public health professional visited selected nail salons. They assessed footspa equipment, cleaning solutions, and cleaning techniques and frequencies. Swab samples were also collected.
In each participating county, a convenience sample of >3 different nail salons equipped with whirlpool footbaths located in the town's main business section was randomly selected for the survey. Salon managers were questioned about cleaning and disinfection regimens of their footspas. Pedicure equipment time in service within the salon and make and model numbers of whirlpool pedicure equipment were noted. For each salon, 2 separate footspas were sampled, unless that salon only had 1 footspa, in which case only 1 swab was collected. Using a screwdriver, investigators removed the grate or filter screen covering the recirculation port in each footspa basin and inspected the area behind the screen for debris. A sterile, cotton-tipped culturette was used to swab this area and placed in standard transport medium.
Isolated from the whirlpool footbaths were 10 species of mycobacteria, 6 of which were RGM: M. fortuitum, M. mucogenicum, M. smegmatis group, M. mageritense, M. neoaurum-like RGM, and a pigmented unidentified nontuberculous mycobacteria. M. fortuitum was the most frequently isolated mycobacterium, found in 14 (47%) of the 30 footspas surveyed and from all 5 counties. Rapid growers, including M. fortuitum,were found in 23 (76%) of the footspas. Slow-growing mycobacteria species were also recovered, including M. avium complex, M. gordonae, M. simiae, and M. lentiflavum. These species were less frequent than the rapid growers, except for M. avium complex, which was found in 5 (17%) of the footspas.
The whirlpool footbaths sampled came from 3 manufacturers. Disinfectants reportedly used included a variety of brand name products and chlorine bleach, used at intervals of 1 to 14 days. Five (17%) footspas reportedly did not go through any disinfectant process. Twenty-five (83%) of the surveyed footbaths had collected visible debris or slime behind the recirculation screen cover, either on the screen itself, on the tub surface, or both. Fifteen (50%) of footspa operators reported never having cleaned behind this screen. One footspa had no screen or visible debris; nevertheless, it tested positive for mycobacteria.
Take good care of you feet, you one get one set. After much investigation of the podiatric offices in NJ doing medical pedicures, I highly recommend going to the Caring Podiatry practice in Monroe, N. J.
The physicians are the ones doing the pedicures at Caring Podiatry. They actually have a coupon available right now for their service through Living Social.
https://www.livingsocial.com/cities/517-mercer-middlesex-counties/deals/1369140-medical-grade-pedicure-or-laser-toenail-treatment . I just bought one for myself and my mother. Their hours are quite flexible and convenient.
Sources
http://wwwnc.cdc.gov/eid/article/11/4/04-0936_article
http://www.epa.gov/opp00001/factsheets/footspa_disinfection.htm
http://www.njconsumeraffairs.gov/adoption/cosado_051809.htm
http://www.njconsumeraffairs.gov/brief/cosbrief.pdf
http://www.drspalding.com/pub1.htm
https://tribwpix.files.wordpress.com/2014/09/public-advocate-letitia-james-issues-report-on-nail-salon-safety-recommendations.pdf
https://www.livingsocial.com/cities/517-mercer-middlesex-counties/deals/1369140-medical-grade-pedicure-or-laser-toenail-treatment
Posted by tammyduffy at 1:35 PM EST
Updated: Thursday, 5 February 2015 1:52 PM EST