Ron Arad: An Italian Romance
Topic: ART NEWS
Ron Arad: An Italian Romance
By Tammy Duffy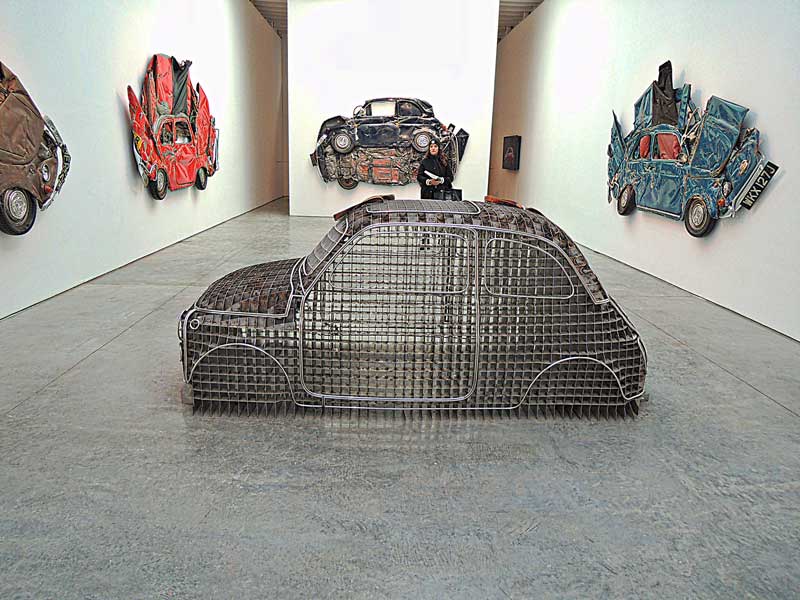 Paul Kasmin Gallery in NYC opened their solo exhibition of metal works by Ron Arad (b. 1951). The exhibition, entitled, In Reverse, opened on February 12, 2015, incorporates work completed by Arad in 2007, 2011 and 2013. The exhibition closes on March 14, 2015.
Arad was born in Tel Aviv. He attended the Bezalel Academy of Arts and Design in Jerusalem and the Architectural Association in London. In 1989, with Caroline Thorman, he founded Arad Associates, an architecture and design firm, in London.
This exhibition, In Reverse, was first installed at the Design Museum Holon, an iconic building that Arad designed in Israel. The exhibition is comprised of six "Pressed Flower" sculptures made from compressed Fiat 500's in various colors; brown, blue, red, white and yellow, a walking bookcase, and much more.
The Arad's first family car in 1949 was a Fiat Topilino Giradineeta. This car was one generation before the cinquecento. One day, during the early morning hours when Arad's was only 7, one of his neighbors came to their door to tell them that their father had been in an tragic accident. The family rushed to the scene of the accident on their bicycles. They quickly saw that their family Fiat had been run over by a large garbage van. They could not believe that anyone got out of the car alive. His father nearly died in that accident. Arad's father is still alive, at the age of 96, and refuses to stop driving.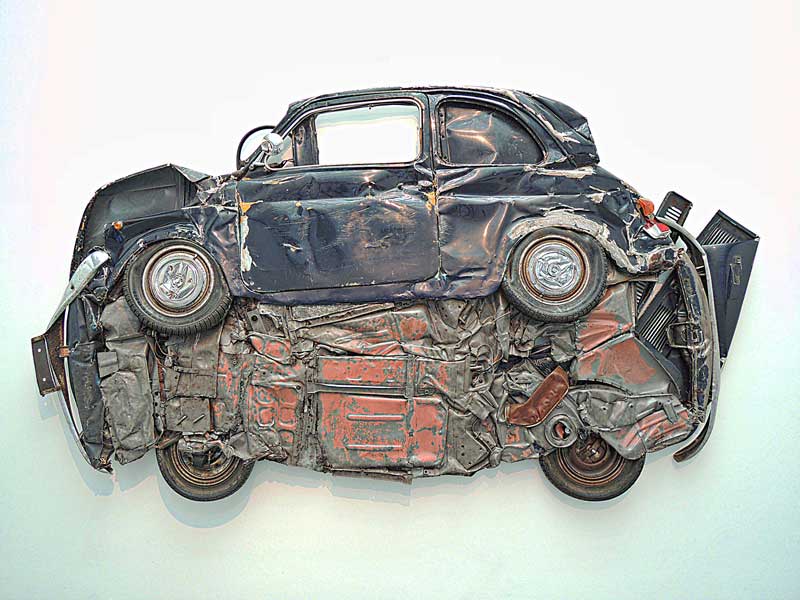 Thirty years ago, Arad was taking a flight to Rome and was contemplating purchasing his first Fiat. During his time in Rome he questioned," Why are there so many older Fiat's in Rome, but no Fiat 600's?" During his travels as he was stopped at a traffic light he shouted out to a driver of a Fiat. "Are you selling your car?" The driver surprisingly said, "Yes." Arad purchased the car for $500. By shear coincidence, the driver actually lived in Arad's neighborhood in London. At the moment of purchase of his first Fiat, Arad said," Some day this car will be art." The car is still parked in Arad's driveway rusting away (next to his new Fiat) and collecting moss. It is not part of the exhibition. However, his statement did come true, that Fiat's would become art some day.
Fiat owners are unique. I waited for two years to obtain my 2013 Cinquecento (aka, Vincenzo Botticelli) to get the right color. The designer and internationally known Lapo Elkann pushed Fiat to have his grandfather Gianni Agneli's company bring back its iconic Cinquencento. He was successful. We do crazy things with our Fiat's, they are like members of the family.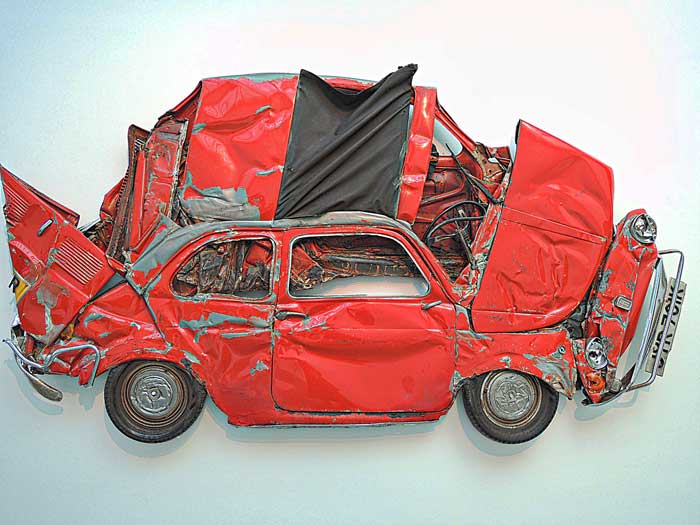 As you enter the exhibition as a lover of Fiat's your reaction is not what you think it would be. You initial thought is, how could he have compressed all these beautiful vintage Cinquecento's? This is a sacrilegious act, one could possibly think. However, what one experiences upon walking from car to car is a romantic interlude. Your love for the Fiat is exemplified. You cannot help but stare at each vehicle and see its compression made imperfections. Imperfections that are perfect. The beautiful chrome bumpers on every vehicle survive the compression. How is that possible? The Fiat is superhuman. These three dimension action paintings will mesmerize you. You imagine the life each Fiat had. Who drove them, where they went, what they saw, what loved one was carried in them and what trials and tribulations they experienced. One of the vehicles actually still has the keys in it. One can almost envision turning the keys to the on position. Where would it take you? See where it takes you.
So where did Arad get the Fiat's for his exhibition? From a very nice family garage owned by the Proietti family. Anyone who owns a Fiat knows who the Proiettoi's are. For those novices, they are THE godfather's of vintage Fiat 500's. They have babysat some Fiat's in their garage for more than 30 years. They are the international cartakers of vintage Fiat's. The first conversations that Arad had with the Proietti's were difficult. They could not understand why he wanted to destroy these vintage beauties. Arad convinced them he was not killing them but resurrecting them and making them immortal. Immortalization was the easy part. Getting the Fiats out of Italy proved to be quite the difficult task.
Arad compressed these vehicles as a therapeutic exercise from his childhood. Seeing the family Fiat compressed by the garbage truck at such a young age was traumatic. Compressing these Fiat's prove to be liberating. His love for his Father oozes from the vehicles. The first vehicle was compressed by an anthropomorphic monster. First they placed it between two steel compression plates and squeezed it to death. Then to finish it off, they removed it from the monster and placed tons of heavy rock on top of the Fiat and ran a construction vehicle over it numerous times. This process took two days. This was going to take too long, so he took the cars to Centraalstaal B.V. in the Netherlands to be placed in a professional compressor. This compression processes took just minutes per car to complete.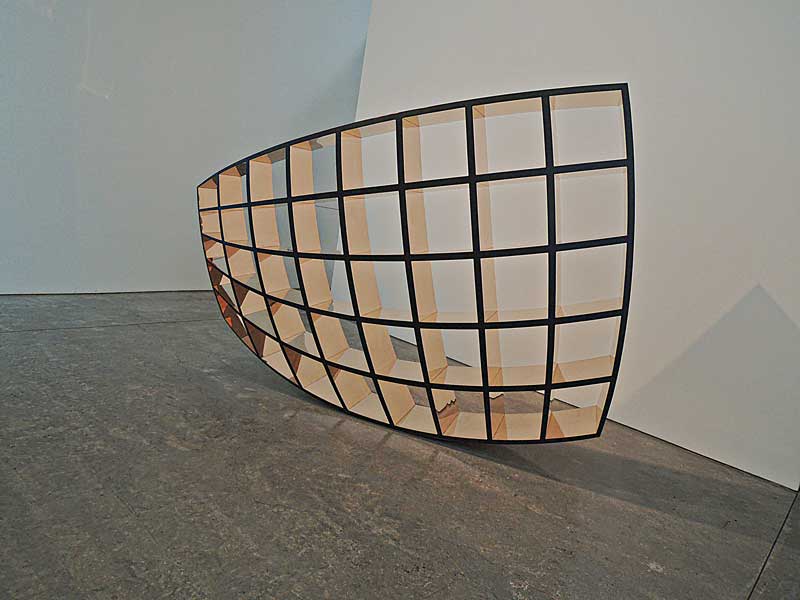 Go to this link below to see more photos from this exhibition
https://www.facebook.com/Duffyculturalcourture/photos/pcb.417787695050473/417786861717223/?type=1&theater
The exhibitions romance does not end there. As you walk to the back of the gallery there is an architectural structure sitting on the floor. At first you are not sure what it is. The piece is entitled, Restless. It is a walking bookcase. This is insanely romantic. As we think of all the books on our shelves, those we have read, reread, lent and borrowed. We think about where our books have traveled, where they have led us to travel. The walking bookcase can represent so many things. It represents the restless movement of information. If someone does not have the information or knowledge, one can use the structure to help fulfill a need. Maybe even help cure a broken heart. This exhibition lifted my heart.
Some of Arad's past work has been described by critics as "scary", considering its "macho concrete and cut metal; tense sheets of tempered steel and guillotine edges." His biomorphic shapes are created from his medium of choice, steel.
In 2008, he designed the Bauhus Museum in Tel Aviv. In 2008–09, Arad paired with Kenzo to create his first perfume bottle. The bottle was on display in his exhibit No Discipline. He has also designed the Design Museum Holon together with Bruno Asa, which opened in Israel in 2010. Also, in 2010, Arad started his collaboration with New Eye London to design an eyewear collection.
Go to this link below to see a video that is in the exhibition
https://www.facebook.com/video.php?v=417784878384088&set=vb.359697407526169&type=2&theater
The romantic aspects of this exhibition do not end within the walls of the gallery. I received the most wonderful surprise after I purchased the hard cover book, that coincides with the exhibition. As you read the book, you come across these beautifully arranged pressed flowers throughout the book. They are the same color as the Fiat's in the exhibition. They are strategically placed in the book. The flowers are placed in areas of the book that make mention of his father in some instances. This is just lovely, creative beyond belief and utterly romantic.
Posted by tammyduffy at 1:54 AM EST
Updated: Sunday, 22 February 2015 8:32 AM EST