Ghandi Comes To Hamilton
By Tammy Duffy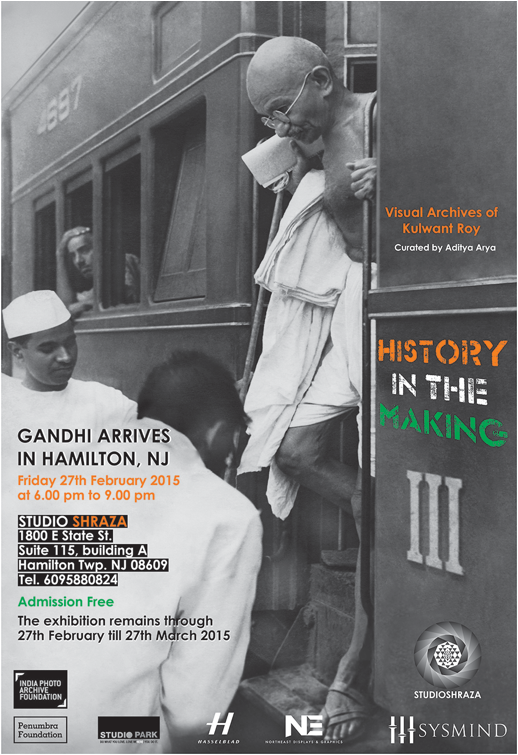 Last evening marked the inaugural art exhibition for a new art gallery in Hamilton, N.J, Studio Shraza. The art gallery is located at 1800 East State Street, Bld A, Suite 115 at Studio Park. This gallery is owned by S.H. Raza and resembles that of a NYC art gallery.
The opening exhibition entitles, History in the Making, is a collaboration between the gallery and the country of India's photo archives. This is a retrospective of Kulwant Roy. Roy was considered on of India's most outstanding photojournalists. He spent tireless days of his life documenting some of the rarest moments in the socio political history of India. Some of the rarest photographs ever taken of political meetings are on display in the exhibition.
These photos and thousands of other images remained forgotten in boxes for over 20 years after the death of Roy in 1984. These images demonstrate a remarkable photographic record of modern Indian history, which have never been published. Displayed on the walls are the rare photos, including a 1939 picutre of Ghandi in a heated argument with Muhammad Ali Jinnah, the head of India's Muslim League. Roy photographed many of Ghandi's travels and was a major chronicler of the Independence movement.
This gallery is the first of its kind ever to exist in the town of Hamilton, NJ. The gallery is open from 10am to 5pm 7 days a week.
Posted by tammyduffy at 7:46 AM EST
Updated: Saturday, 28 February 2015 7:57 AM EST