AN UPSCALE NYC FASHION SHOWCASE WITH CELEBRITIES AND PROFESSIONAL ATHLETES FOR NBA ALL-STAR WEEKEND
Topic: FASHION NEWS
AN UPSCALE NYC FASHION SHOWCASE WITH CELEBRITIES AND PROFESSIONAL ATHLETES FOR NBA ALL-STAR WEEKEND
By Tammy Duffy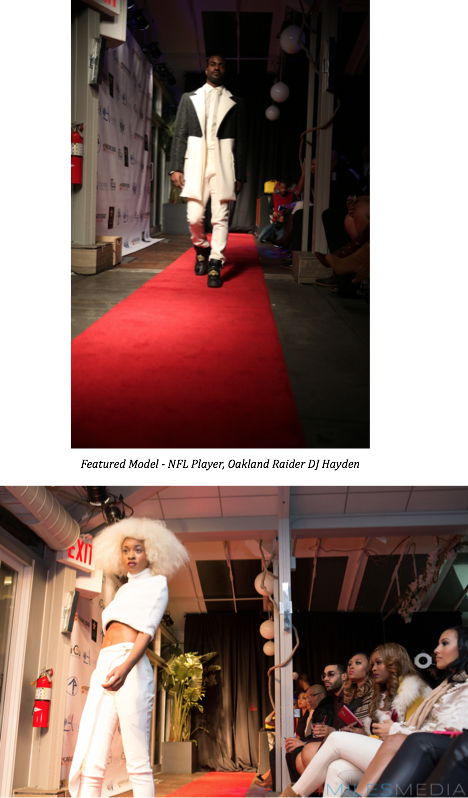 The 9thannual, 'Where Music Meets Couture Fashion Show, brought together a host of celebrities and professional athletes for an altruistic cause. The festive occasion occurred on Friday, February 13th at The Attic Rooftop Lounge, during the NBA All-Star Weekend, and illustrious New York Fashion Week.
Attendees enjoyed a fabulous VIP mix and mingle against the backdrop of complimentary cocktails, sponsored by Star Vodka, Beverage Company. Following the pre social mixer, guests enjoyed a variety of posh couture looks, sported by a prestigious list of renowned athletes and celebrities. The models for the evening included, featured celebrity model, Nicole Murphy, NY Giants, Walter Thurmond III, St. Louis Rams, Rodney Mcleod Jr., Oakland Raiders, DJ Hayden, Brooklyn Nets, Darius Morris, and French Professional Basketball Player, Alexandre Nicolai. The opulent affair also featured garments and accessories by Columbian Designer, Edwing D'Angelo, the Tyrell Collection, Schuyler, Nikini Swimwear, and the Andrew Harris Collection.
The annual fashion soiree not only recognizes the success of the CEPR team, but also its notable list clients and partners, too. Additionally, the gala serves as the perfect platform to help bring relevance to the benefit of supporting charities and worthy causes. For this year's showcase, CEPR donated a portion of the event's proceeds to the Walter Thurmond Foundation for Arts and Education, which benefits the improvement of youth literacy within inner-city schools.
Posted by tammyduffy at 12:01 AM EST