Floors For the Way You Live Transformation About To Happen
Topic: COMMUNITY INTEREST
Floors For the Way You Live Transformation
About To Happen
By Tammy Duffy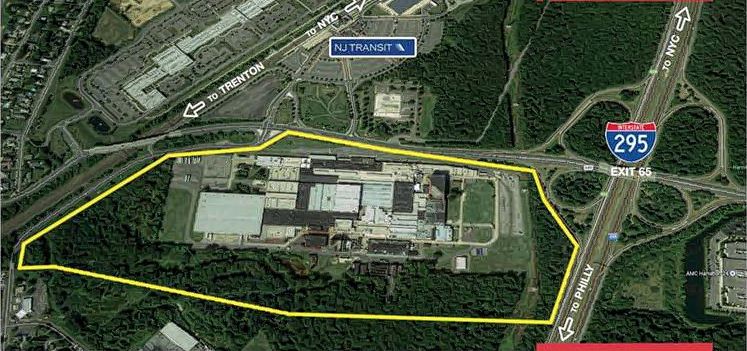 Photo courtesy of NAIMertz
Congoleum products have been an integral part of the American home for decades. Their motto, "Floors For The Way You Live," is one of the

most recognized

motto's

in the industry.
The introduction of vinyl products at the 1933 Chicago World's Fair proved a revolution for Congoleum.
A transformation is about to happen at the retired Congoleum plant, located at 861 Sloan Rd, in Hamilton, NJ.
Congoleum Corp., a manufacturer of vinyl sheet and tile products is among the nation's largest manufacturers of resilient vinyl flooring products, for both commercial and residential markets. Its corporate history includes such industry highlights as the introduction of the first no-wax floor and the first chemically embossed vinyl-sheet floor. Throughout a complex corporate history the Congoleum name has remained a constant.
Congoleum hit some troubled times between 1950-68. They were forced by their competition to expand their line. In 1951, they acquired Delaware Floor Products, Inc., a Wilmington manufacturer of vinyl plastic tile and rolls as well as felt-base floor coverings and also a manufacturer of sheet-vinyl coverings for sinks and counter tops.
In 1953, they acquired Sloane-Blabon Corp., another floor-covering maker, for $10.3 million, and in 1955 the equipment and inventories of the fiber-rug division of Patchogue-Plymouth Corp., creating a subsidiary called Loomweve Corp. to manufacture tufted carpeting, woven fiber rugs, and automotive flooring in Lawrence, Massachusetts.
The acquisitions were moving Congoleum in the right direction. The company shifted some of its linoleum production from sheets to squares in order to attract trade from do-it-yourselfers and brought out a linoleum tile with a special base and adhesive for use with concrete-slab construction. However, to meet intense competition from other tile makers the company had to reduce its price for asphalt tiles by 13 percent and for vinyl plastic tiles by 10 percent in 1955, even though this sector of its business was barely profitable.
Shifting emphasis away from linoleum, Congoleum moved its linoleum-making operations from the Kearny plant in 1957 to the former Sloane-Blabon factory in Trenton, New Jersey, retaining part of the Kearny facility to make asphalt and vinyl plastic tile. It installed at Marcus Hook what it called the largest rotogravure press in the world for a new plastic floor covering.
Based in Mercerville, New Jersey, outside Trenton, Congoleum embarked on a capital-spending program in 1989. One benefit of this program was that the Marcus Hook plant, which in 1987 led all Delaware river valley polluters by pumping more than a million pounds of ozone-destroying compounds into the air, completely eliminated this noxious discharge by switching from hazardous solvents to water in its inks. In 1991, Congoleum announced it would spend between $45 million and $50 million to improve several of its vinyl-flooring plants, with the bulk of the funds used to install new equipment, such as improved ovens and an improved printing system. The company was unable to borrow from banks for these improvements but in 1991 secured a $57.5-million asset-based working-capital line from CIT Group Inc.
Congoleum's net sales declined slightly to $263.1 million in 1995 in what the company attributed to a cyclical downturn in the homebuilding sector, accompanied by rising raw-material prices, and "a sluggish retail environment and higher interest rates." Net income fell to $9.4 million, with earnings negatively affected by a $1.5-million after-tax charge relating to a writeoff of accounts receivable from Color Tile, Inc. which filed for Chapter 11 bankruptcy protection in January 1996. Congoleum's long-term debt was $90 million in June 1996.
Congoleum has had difficulties in the most recent years due to changes in consumer spending and asbestos litigation. The flooring plant located at 861 Sloan Avenue ceased operations in late 2014. This particular facility was closed to consolidate operations to improve efficiencies in an increasingly competitive business environment.
It's the end of an era for Congoleum at 861 Sloan Ave. However, this 65 acre property is up for sale again. A prior real estate deal did not finalize and a new, commercial real estate firm, NAI Mertz, is at the helm to sell the property. They are experts in this field.
The Congoleum property is located within an industrial redevelopment zone, at 861 Sloan Avenue. It is a one million square-foot, inter-connected industrial complex, situated on 65 acres. The property offers immediate access to I-295, and is within close proximity of all major regional thoroughfares. It is adjacent to the NJ Transit station providing rail service to New York City, Philadelphia and Trenton.
NAI Mertz is a leading commercial and industrial real estate firm in the Greater Philadelphia area with complete real estate services, including commercial, land, industrial, retail, site selection, and investment.
The companies reputation is built on their ability to deliver solid solutions for companies locally, nationally and globally. Whether the need is 3,000 or 3,000,000 square feet, they provide the same level of attention. They are fully engaged to find the right buyer and solution for the transformation of the Congoleum site. Research plays an integral part in near-term decision-making and long-range planning for industrial sites. NAI Mertz understands the local activity, industry trends. These are key attributes in understanding the best course of action in industrial investment plans.
NAI Mertz is the South Jersey representative for NAI Global and the Industrial and Retail Member representative for Greater Philadelphia. NAI Global is the largest managed network of commercial real estate service providers, comprising 6,700 brokers in 375 offices serving over 55 countries throughout the world. NAI Mertz of PA is the NAI Global representative for the Scranton/Wilkes-Barre/Hazleton, PA area and Northeastern Pennsylvania.
A new era is about to begin…….thanks to NAI Mertz.
Posted by tammyduffy at 7:58 PM EST
Updated: Thursday, 26 February 2015 8:00 PM EST