Zendaya A True Beauty
Topic: FASHION NEWS
Zendaya, A True Beauty
By Tammy Duffy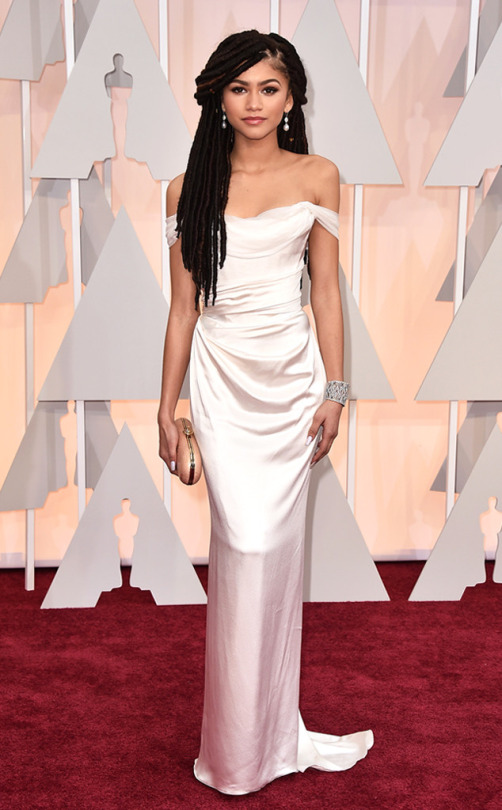 Zendaya in Vivienne Westwood couture at the 2015 Oscars
The Webster Dictionary's definition of racism is......
A belief or doctrine that inherent differences among the various humanracial groups determine cultural or individual achievement, usually involving the idea that one's own race is superior and has the right to dominate others or that a particular racial group is inferior to the others.
During an episode of Fashion Police, Guiliana Rancic said," I feel like she smells like patchouli oil or maybe weed," when she viewed a photograph taken of the beautiful Zendaya. So, if you read the Webster's definition of racism, do you consider what Rancic said racist? Does Rancic's comment demonstrate that dreadlocks are a less superior way of style and human representation?
Here are the facts. Zendaya is drop-dread gorgeous and downright gracious. She has handled this negative event that Rancic caused with a level of style and grace that Rancic can only ever dream of having the capability to demonstrate. Rancic can learn alot from the ever beautiful Zendaya.
Zendaya stated back, saying, "There is a fine line between what is funny and disrespectful. Someone said something about my hair at the Oscars that left me in awe. Not because I was relishing in rave outfit reviews, but because I was hit with ignorant slurs and pure disrespect."
On the red carpet Zendaya shared why she decided to wear the dreadlocks. She loves her father very much. He has them, as well as others that are close to Zendaya. She wanted to look like them. An homage to them because she thinks they are cool and she loves them.
Zendaya is a GREAT kid. She has love all around her. If Rancic would have bothered to ask Zendaya or the journalists or photographers who were there, why she chose that look, Rancic would have known. Unfortunately, this is not what E News does. They only judge not journalize. They have become the equivalent to the grocery store newspapers that no one really buys but will take a peek at while they are at check out on occasion. Newspapers riddled with lies and lack of journalism.
I found it equally offensive that right after she made her statement of "apology" to Zendaya, the E network thought it would be great to show Honeybooboo devouring friend chicken, in essence to make fun of another child again. The poor kid has some massive health issues right now that are quite sad. Kids are off limits.
One can only hope that Rancic has learned a lesson. We will see. Kelly Osbourne's reaction was equally as interesting. She states she is best friends with Zendaya. However when Rancic made that statement initially, Osbourne's first reaction to the comment was to laugh. This is clearly seen on the tape that shows Rancic making the comment. She then appeared to become uncomfortable with the statement on camera after her laughter. But, her first reaction was to laugh. She then got on the "I am not a racist bandwagon" when Zendaya stood up for herself. If Zendaya never said anything, would Osbourne never would have said anything? Osbourne's comments seem so disingenuous due to the fact she is shown on camera laughing at the comment made by Rancic. If someone said something like that about a friend of mine I would have said something to them right then and there to support my friend. That is a friend. Osbourne did not do that. Her comments came out after Zendaya stood up for herself.
Rancic can only hope that some day her kids want to emulate her like Zendaya did of her father and friends with her hair style. This is what Rancic should think about before she opens her mouth again.
Posted by tammyduffy at 7:25 AM EST
Updated: Thursday, 26 February 2015 7:32 AM EST